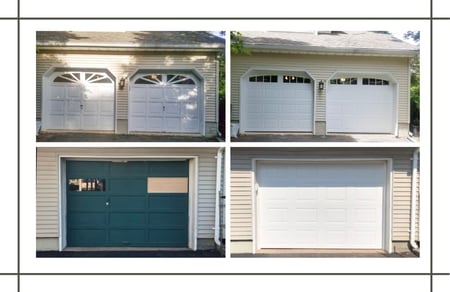 Are you thinking of selling your home? If so, you are most probably doing some projects to freshen up the appearance to make it as appealing as possible to potential buyers. One often overlooked item is a deteriorating or damaged garage door. While a garage door may not be top of mind when you are thinking of improvements, the difference between an older, ugly or ho-hum garage door and a bright new garage door with some pop can make a major difference in curb appeal. This is especially important as curb appeal is the first impression of your home. A buyer can easily form an opinion based on that first look and feel – before they ever get inside the front door.
While at first it may sound expensive to consider replacing your garage door or doors, you should know that garage door replacement has consistently been ranked as one of the top home improvements for return on investment. Search the internet and you will find many articles supporting an ROI of over 95%.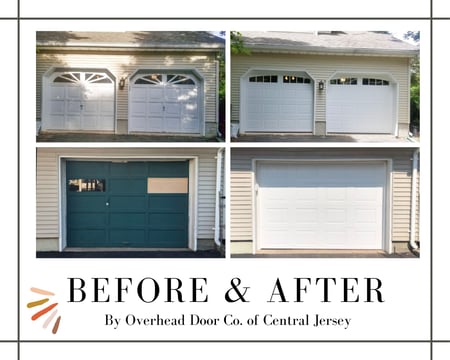 This means that not only will attractive new garage doors improve your curb appeal and increase your potential for a quick sale, but in most cases you should be able to recoup nearly all of the expense. This is particularly true if you have older wood panel type doors or very basic uninsulated steel panel doors. These older doors were basic in style and unexciting when they were new. Add a bit of damage or deterioration and they go from unexciting to unappealing. With many new styles to choose from you can change your garage doors from boring to beautiful. There are many panel designs, window options and colors to choose from, and most are more budget friendly than you might think. Moving past the appearance, consider the difference in the impression made by a squeaky, shaky, poorly fitting door and a new, smooth operating, quiet door that is adjusted properly for a weathertight fit.
As you can see, there are many reasons to take a look at the condition and appearance of your garage door if you are planning to sell your home. The product specialists at Overhead Door Co. of Central Jersey are available to assist you in making the most appropriate choice for your home. And, remember also, if your door looks good but does not work smoothly and quietly, most problems can be addressed with a simple service call. A bad pulley, a bad roller, lack of lubrication or poor adjustment can all cause a garage door to be very noisy and work quite poorly.
To learn more, visit Overhead Door Co. of Central Jersey on Route 202 at River Road in Branchburg, visit us on the web at www.OverheadDoorCo.com, or give us a call at 908-722-5785. We'll be glad to help. Overhead Door Co. of Central Jersey has been proudly serving the Central Jersey market since 1972, and we look forward to assisting with your project.