You can have some serious fun with your garage doors – use them to create illusions that will cause visitors to do a double-take. You can choose doors that are semi-magical straight from the factory (carriage house doors) or you can add whimsy to the doors you already own. Tricked-out garage doors are a gag that keeps 'em laughing.
One oldie but goodie is to design conventional garage doors to look like they swing open and shut rather than lift and lower. These are carriage house doors, and folks can be easily fooled by a good design.
For example, check out Model 309 from Overhead Door's Carriage House Collection. These beauties feature an X-shape trim board design on the lower sections, along with non-functional handles and hinges.

Carriage House Style Garage Doors Model 309
What a hoot! You just can't help but grab a handsome wrought-iron handle and tug the door to the left or right. After all, that's why it has hinges, right? These beautiful steel garage doors open just like any other sectional garage door, and can be customized in various ways:
✓ Door heights of seven or eight feet
✓ Square or arched top sections
✓ Painted or stained finishes, including the look of mahogany, oak and walnut with embossed wood-grain texture
✓ Two-tone designs with white trim boards
✓ Square or arched window trim with 1 to 16 lites per panel
✓ A selection of hinges, lift handles, pull handles and hammered knockers
Another favorite fool-you design can be found the natural-wood Overhead Door Signature® Carriage Collection, available in the Parson, Ponderosa, and Villa Madre Series. The doors are available in 10 different designs with varying tops and grooves, 12 different woods, 6 glass types, 9 knocker styles, 6 lift handles and 3 clavos/studs.
Of course, if you have a plain garage door, you can purchase hardware from Overhead Door to give it a carriage house illusion after the fact.
---
Tarps and Screens for Garage Doors
Blow your neighbor's minds with pictorial tarps and screens that make your garage appear open when it's really shut. You can choose from dozens of designs, such a parked yacht or a beautiful sunset of flames. You can get the tarps and screens with rollers that allow you to roll up the image when you want to operate the garage door.
These screens also are great when you want to have a garage party without closing the door. Neighbors might hear the fun but you'll be out of sight, a very worthwhile illusion. Some folks choose screens that make the garage door appear that a car has run into it. Imagine the sympathy you'll generate, until you roll up the tarp.


---
Is That Wood or Vinyl?
Finally, a valuable illusion is to hang vinyl garage doors that look just like painted wood. For example, Overhead Door's Durafirm Collection® Model 870 is clad in vinyl that looks just like painted wood.

Garage Door Durafirm Collection® Model 870
You get a holiday from wood garage door maintenance and the rust and dents that can plague steel doors, all the while maintaining the illusion of painted wood doors. Durafirm Collection® garage doors also provide outstanding thermal efficiency, noise suppression and a variety of maintenance-free finishes. The vinyl's wood-grain texture gives the illusion of the timeless look of painted hardwood. The vinyl is treated with special UV-resistant polymers that protect the door from the sun's brutal ultraviolet rays. What's more, the vinyl's color is through-and-through, so minor scratches won't destroy the illusion of painted wood.
---
Overhead Door Company of Central Jersey has been selling, installing, and servicing overhead garage doors in the central Jersey area since 1972 - over 50 years – so you can be assured we will work with you to select the perfect garage door for your project. Of course, we also offer a full line of garage door automation and convenience products.
Call us at 908-722-5785, request a home visit, or come to our showroom on Route 202 South in Branchburg, NJ between River Road and Readington Road.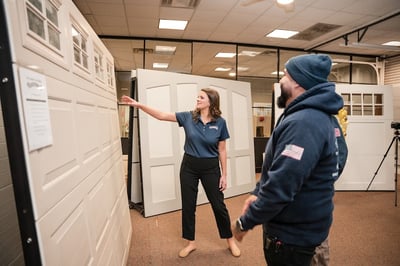 Overhead Door Co. of Central Jersey Showroom
We have the largest showroom in the area with 20+ garage doors on display!