At Overhead Door Company of Central Jersey we are always here to assist in selecting the perfect garage door for your new home or replacement garage door project. Certain garage door styles are more appropriate than others for certain home types. Let's take a look at some garage door options for your Tudor-style home.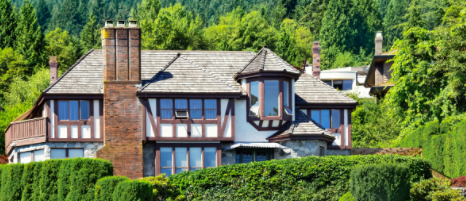 Tudor-Style Home
For most people Tudor style immediately brings to mind a two story home with a steep roof, high chimneys, stucco surfaces in a white or off white color and trim details in dark brown – in fact many paint manufacturers offer a color defined as Tudor Brown. The trim details may be simple or quite intricate. So…what garage door designs can we match with a Tudor style home? There are a number of appropriate products that fit the Tudor application. The perfect choice for your project is dependent upon your taste and your budget. Considerations in addition to design might include insulation value and maintenance requirements.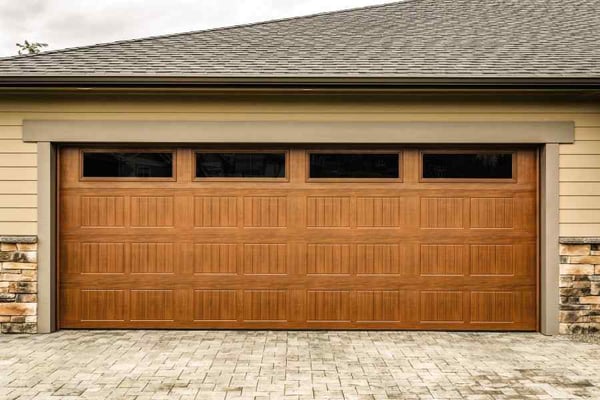 Thermacore® Collection:
Insulated Garage Door
with Wood Grain Finish for Your Tudor-Stly Home

The most basic choice would be a flush wood grain panel product. This is a budget friendly choice that blends well with Tudor architecture. A flush door is effective but does not make any particular statement making it a very 'safe' choice. This type of product can be complimented with window options and / or decorative hardware options.

Carriage House Garage Door for a Tudor-Style Home

Other designs that work particularly well with Tudor style architecture include A buck or V buck carriage style doors. A buck and V buck are also referred to as half-buck design. If you prefer to avoid these angled trim options plain vertical panel doors in four or six panel design offer an attractive alternative that prevents any conflict with the angles of the Tudor trim and the door design. These products are typically available in steel, composite and premium wood. Premium wood doors allow stain choices rather than the more common dark Tudor brown color.


Carriage House Garage Door with Windows and Decorative Hardware

Finally, adding a window option and decorative hardware often completes the appearance and ties the garage door product to the other exterior features of the home. Decorative options include clavos, speak easy grilles, hinges and handles. Take some photos of your home or have your plans available when visiting our showroom to discuss the most appropriate choice for your project. Our residential product specialists are here to assist with selecting the right door for your needs.




Overhead Door Company of Central Jersey has been serving the New Jersey since 1972. Our competent team of technicians offers beautiful garage door options for your tudor style home. We also provide service, repair and replacement for your residential garage doors, traditional residential garage doors, carriage house garage doors, contemporary garage doors.