Is your garage door shaking, noisy or simply not working properly? First you will have to schedule a garage door service call, then you will need to get your garage ready before the technician arrives go to your home to help ensure you will receive the most effective service.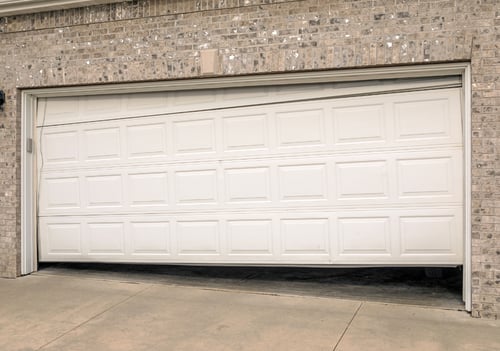 Broken Garage Door
Step 1: Schedule a Service Call

Before calling to schedule a service call for your garage door/opener we suggest you take a look at the garage door system and collect answers to the following questions:
- Is the reason the door is not working visible? IE: Broken spring, cable, track, roller, hinge, etc.

Garage Door Broken Cable
→ Suggested Article: "My Garage Door Cable Broke. Why and Now " ←
- Is the reason the door is not working to you? Perhaps a scenario similar to: 'the door worked last night but when I pushed the button this morning nothing happened?
- If the spring is broken is it the type that stretches out from the rear hanger support of the track that is mounted to the ceiling (extension or stretch type spring) or is it the type that is mounted and wound on a pipe above the top of the upper door section (torsion spring).

Torsion Spring
→ Suggested Article: "Difference Between Garage Door Torsion and Extension Springs" ←
- Does the size of your garage door accommodate one car or two cars? (Is the door single car wide or two cars wide?)
- What is the garage door constructed of? Wood, custom high-end wood, steel, vinyl, fiberglass, etc.
- Can you determine the manufacturer or brand of the garage door? Overhead Door, Amarr, Clopay, Wayne Dalton, etc.
- Can you determine the manufacturer or brand of the automatic opener system? Such as Linear, LiftMaster, Overhead Door, Genie, etc.
- Is the door electrically/automatically operated? If so was the garage door opener working reliably up to the point where the door failed to operate?
- Was there any specific event that led to the service requirement? Was the door hit by a vehicle, was it closed on an object and damaged, was it frozen to the ground and failed to open when activated, etc.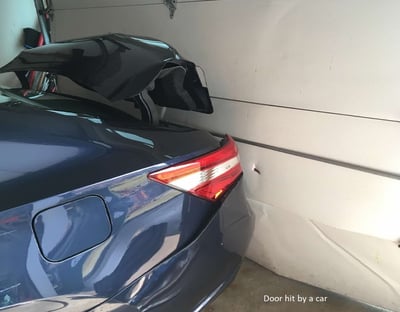 Step 2: Send a Photo or a Short Video (Optional)
If something is visually obvious to you, take a photo or two that will show this condition and be ready to email it to the service manager – it can be so true that a picture is worth a thousand words. This applies not only to the type of damage but to assist in identifying the product brand and model.
Look at the edges of the door section for a label or sticker with manufacturer information. Look at the hardware and check for any identifying information. Take a good, clear photo of the inside of the door and a good, clear photo of the outside of the door. Be prepared to send these along with any close-up photos of broken parts or damage.
If the door is making noise you cannot identify, if the problem is intermittent or if the problem is hard to describe it may pay to make a short video of the door and opener system in operation. You can then email or upload this photo documentation allowing our service manager will be able to see the problem you are describing.
→ Suggested Article: Why is My Garage Door Shaky? ←
→ Suggested Article: Why is My Garage Door So Noisy? ←
Step 3: Preparing Your Garage Door for Your Service Call
Here are some tips that will help us to provide the best possible service experience:
- Vehicle outside your garage: Vehicles must be out of the work area if possible – if the vehicle is trapped in the garage be prepared to move it for the technician as soon as he or she opens the door for you.
- Tools/hobby equipment: items must be moved out of the work area.
- Children and pets: Be prepared to keep children and pets away from the work area while the technician is on-site.

Conclusion:
A bit of preparation prior to ordering a service call can pay big dividends by allowing us to answer more questions before dispatching a technician and reducing service costs as well as downtime by being as informed and prepared as possible to address your specific needs. A quality service company will also maintain this information in your customer profile so any future service requirement can be more effectively addressed.
To place a garage door opener service call with us in the Central New Jersey area:
To learn more about Overhead Door Co. of Central Jersey before booking your call you can visit us at www.OverheadDoorCo.com.