Have you ever wondered what type of light bulb should you be using in your garage door opener? Did you know what having a LED Light Bulb could can interfere with the radio control signals so the door will not open reliably when activated by the radio control transmitter?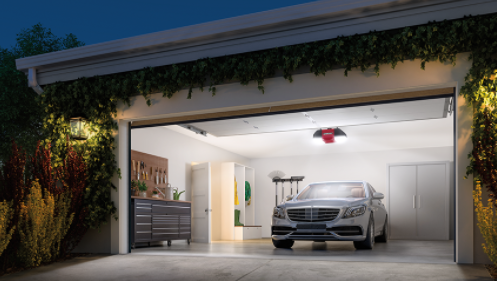 The good news is, Overhead Door Company has introduced their first LED Light Bulb, specifically made for garage door openers.
As Heather Meiner, brand manager for Overhead Door Corporation said:
"Traditional LED Light Bulbs are becoming more and more popular every day
for use in garages, but many of them can unexpectedly cause the
opener's remote control to have decreased operating range.
We're thrilled to introduce our LED bulb because it will help ensure your
opener and remote perform at their best,
no matter what brand of garage door opener you have."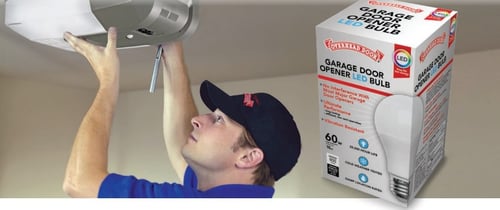 ✓ Eliminate or Reduce Garage Door Opener Remote Interference
Overhead Door's new LED Light Bulb has a unique design that shields the transmission of its energy waves from the radio frequency that goes between the remote and the opener. In other words, you don't have to worry about it interfering with garage door openers, limiting the range of the opener's remote controls.
You can open your overhead garage door without having operational issues as our LED Light Bulb is radio frequency friendly. We are very excited to introduce our LED Bulb as it will help ensure your opener and remote perform at their very best, no matter what brand of garage door opener you have.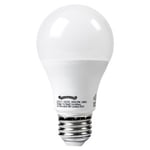 LED Light Bulb for
Garage Door Openers
→ Suggested Article: Garage Door Openers: Our Best Sellers ←


✓ Handles Tough Conditions in the Garage
- Vibration and shatter resistant: Our LED Bulb is shatter and vibration resistant, and it's able to withstand 5G of shaking force which is more than normal vibration from a garage door system as it is manufactured and designed to handle the tough conditions.
- Cold weather tested & damp location rated: It can affect how long a light bulb lasts as a garage is often cold and damp. No matter this, our LED Light Bulb is made to withstand up to -30°C (-22°F), as well as throughout a garage's many damp areas.


✓ Bright, Long Lasting & Efficient Lighting
Overhead Door's LED technology offers energy savings without sacrificing brightness. It will operate for an estimated 25,000 hours, only cost about $1.07 per year depending on local utilities, and supply a generous 800 lumens of light, equivalent to a 60 watt bulb.

Where Can You Buy a LED Light Bulb for Your Garage Door Opener?
You can buy LED Light Bulbs for your garage door in our Parts Counter located in Branchburg, NJ. If you'd like us to ship them to you, you can order them by calling: 908-722-5785. Contact us. It will be a pleasure to assist you!
→ Suggested Articles: Annual Preventive Maintenance
for Your Garage Door ←