Annual fire door inspections and testing are a must if your facility requires fire-rated door systems. Fire-rated doors can be rolling or sliding-type doors and may include smoke detection/protection as well as fire protection.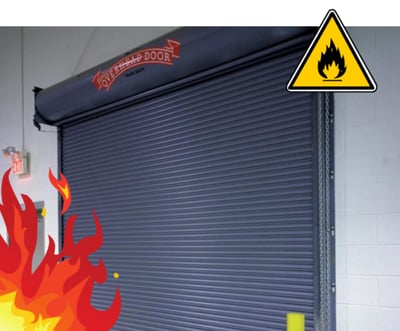 The first and most obvious reason is personal safety. Other reasons include protection and preservation of property, insurance requirements, and reducing liability should there be a fire event.
An inspection/drop test will help to ensure that your
fire-rated roll-up door
systems are functioning properly. A properly trained technician will carefully check the entire system. Some of the included items are:
Fire-Rated Roll-Up Door Visual Inspection
Conduct a visual inspection for anything that may cause a hazard during testing or affect proper operation or resetting. Verify:
Mounting and assembly bolts are not missing or loose.

Welds and weld locations comply with the installation method for fire door assemblies welded to steel jambs per the manufacturer's installation instructions.

Fusible links are located per the manufacturer's instructions.

Guide assemblies have the required fire expansion clearance per the manufacturer's instructions.

Fusible links and sash chain/cable links are not painted or coated with dust or grease, the cable is not kinked or pinched, the chain is flexible and not twisted, and raceways are not obstructed.

Smoke detectors/release devices function properly.

Nothing that is not a part of the fire door assembly is attached to any part of the fire door assembly (suspended ceiling, light fixtures, ducting, conduits, framing, and any other building materials).
Check for Damaged or Missing Components
Slats – check for anything bent; tears or holes; metal fatigue.

End locks – check to verify none are missing; broken; bent; loose.

Bottom Bar – check for bent or damaged angles; loose bolts.

Guide Assembly – bent angles or channels; loose bolts; curtain entry misalignment.

Hood (and Flame Baffle when required) or Fascia – bent; rubbing curtain; holes; loose fasteners; metal fatigue; missing intermediate supports (when required).

Automatic Closing Mechanism – missing, broken parts; drop or release arms tied, blocked or wedged. 7. Operating Mechanism – worn, misaligned or poorly meshed gears; worn roller chains; misaligned or loose sprockets; loose bearings; broken parts; bent shafts
Operational Check
Open and close the roll-up door using normal operation. If we find the door is not properly balanced, or there is damage or missing parts that may create a hazard or prevent proper operation, these conditions must be corrected before conducting a drop test.
Drop Test
A drop test is required to confirm that the fire door will close automatically during a fire emergency. Use manufacturer's drop test instructions.
- The door must be fully open before the drop test.
- The door must close fully so the bottom bar rests on the sill.
* The average closing speed must be between 6" and 24" per second. Test each automatic closing option for the fire door.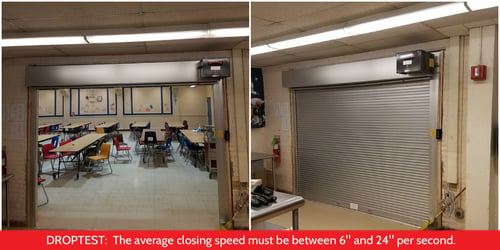 Reset the Fire-Rated Roll-Up Door
Reset the door per the manufacturer's instructions. Open and close the door by normal operation. Drop test the fire-rated door a second time, and reset again. Of course, ultimate acceptance of a fire door is the decision of the authority having jurisdiction, as defined in NFPA 80.
At Overhead Door Co. of Central Jersey, our commercial technicians have attended rigorous training prior to being authorized to inspect and perform drop tests.
We've been providing quality service to the central Jersey market for over 50 years. Visit us on Route 202 South in Branchburg, NJ, between River Road and Readington Road, phone us at 908-722-5785