Did you know that there are plenty of potential dangers and accidents associated with garage doors if they're not kept in proper working condition or if they are not operated properly?
Garage Door Safety Month commences annually in May. An initiative born by IDA (International Door Association) to keep the public and its families safe. Overhead Door Company of Central Jersey in Branchburg, is participating by sharing important safety issues and tips to aid in the continued safety of your family.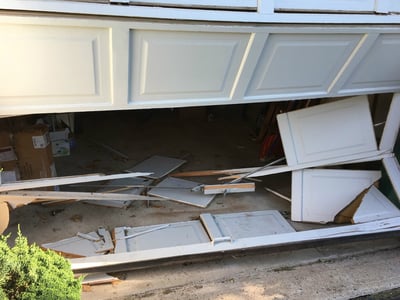 ✓ Garage Door Inspections and Preventive Maintenance
In order to provide safe, trouble-free operation, it is necessary to provide proper installation, operation, maintenance, and monthly/annual testing of the garage door and electric garage door opener.
An improperly adjusted garage door or garage door opener could lead to serious injury or death from being hit by a closing garage door or from being trapped under the door as it can exert deadly force when the door closes.
You can save money and prevent tragedies by performing a monthly safety inspection and scheduling annual preventive maintenance for your garage door(s).
- Monthly Self-Inspection:
Examine the garage door's springs, cables, rollers, and pulleys, and if you do notice damage in any of these, do not attempt to repair cables or springs yourself as they can cause serious injuries if they break free and strike someone. ** WARNING: Only qualified individuals should adjust garage door springs and cables as they are under high tension. Contact us to repair or inspect the damaged parts.
You should also test the garage door auto-reverse feature every month. You can place a roll of paper towels in the path of the door. When the door makes contact with the paper towels it should immediately reverse directions.
Without a properly installed safety reversal system, persons (particularly small children) could be seriously injured or killed by a closing garage door. If your garage door opener was manufactured before 1993, it most likely won't have the auto-reverse feature. If it doesn't have this important feature, we highly suggest you consider replacing your garage door opener.
- Annual Garage Door Safety Inspection & Preventive Maintenance
Scheduling a garage door preventive maintenance and safety inspection by a certified technician at least once a year will help to keep your family safe by catching small repairs before accidents happen. It will also benefit you by way of cost savings since small repairs when ignored often lead to larger, more expensive repairs.
✓ Use Your Garage Door & Garage Door Opener Properly
It is important to use the garage door and the garage door opener properly as these are not toys.
- Educate Your Children About Garage Door Safety Practices
It is of vital importance to explain to your children that it will be very dangerous to be trapped under the door.
Keep the garage door remote controls out of the hands of children. Do not allow children to play with garage door remote controls. It is best to mount the garage door opener control button at least five feet from the floor. At this height, small children won't be able to reach it.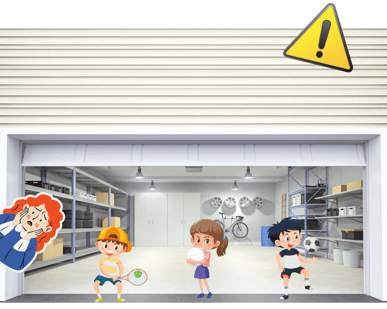 - Keep your door insight during operation
To ensure nobody (especially children or even small animals) attempt to enter the garage door when moving, you should keep the door in view the entire time it is in motion when you are opening or closing your garage door, as it could lead to them being caught under the door as it closes.

- Never Stand or Walk Under a Moving Garage Door
Never try to exit the garage door as it is closing. No one should stand or walk under a garage door while it is moving up or down. A garage door weighs from 130 - 500 pounds. If the garage door system fails and the garage door falls into someone, it can cause serious injuries or even death.

- Watch Fingers Between Door Sections
If you have a garage door that opens manually, make sure to never place fingers between door sections. If possible, add pinch-resistant door panels to help prevent accidents.


✓ Keeping Intruders Away From Your Garage Door
- Take the Garage Door Opener Out of the Car
It is well known that one of the most common ways criminals break into someone's house is by stealing the garage door remote. This can be avoided by simply taking your remote with you whenever you leave your vehicle. It is very simple for homeowners to store it in a purse, pocket, or backpack, reducing the chances of it being stolen.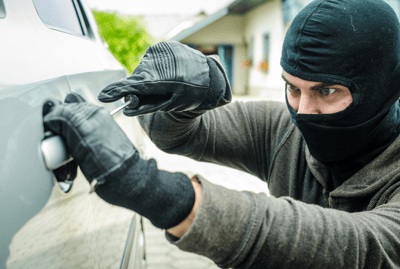 - Invest in Smart Garage Door Technology to Control & Monitor Your Garage Door from Anywhere
Thanks to the smart garage door openers that we offer at Overhead Door Co. of Central Jersey, homeowners can control and monitor their garage doors from anywhere. You can easily find out if your garage door is open, or closed, or even if someone is attempting to operate the garage door without permission.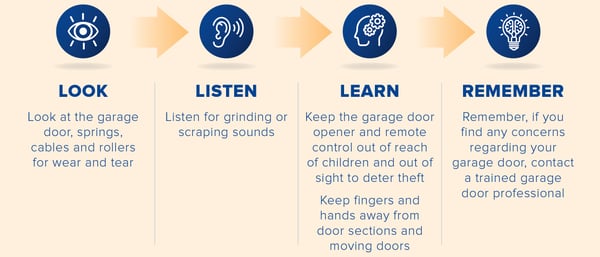 → Suggested Read: Control Your Garage Door with Your Phone or Tablet from Anywhere ←
Take advantage of Garage Door Safety Month. Contact us today to schedule an annual visit to keep your door functioning safely or request a free quote to install a smart garage door opener.

We've been serving the Central Jersey area for over 50+ years. We look forward to hearing from you.