When selecting an Overhead Garage Door there are many considerations. Garage doors come in many styles and colors with an almost endless combination of panels and window designs. In this post, you will learn the difference between a raised panel vs recessed panel garage door.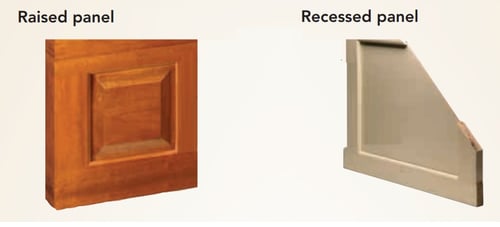 At Overhead Door Company of Central Jersey, we display a wide variety of products in our showroom to assist our customers in the selection process. The variety is fascinating – steel, vinyl, aluminum and glass, wood, paint grade, stain grade, prefinished, and so on.
One of the primary considerations might be to determine if a raised or recessed panel product is most appropriate for your garage door.
---
- Garage Doors with Recessed Panels
A recessed panel is generally a flat or flush panel surrounded by a framework.

Carriage House Garage Door with Recessed Panels


Traditional Garage Door with Recessed Panels (Courtyard Collection®)
→ Click here to Visit Our Residential Garage Door Catalog ←
---
- Garage Doors with Raised Panels
A raised panel is generally a thicker panel with a beveled edge or other detail cut into the perimeter, also surrounded by a framework. This appearance may be stamped into the face of a steel product. In the case of wooden or composite custom garage doors, the appearance is created by milling the wood, adding an overlay, or a combination of these. The raised panel often appears to be bulkier or 'busier' than the recessed variety. This is a result of the additional detail on the face of the panel.

Traditional Garage Door with Raised Panels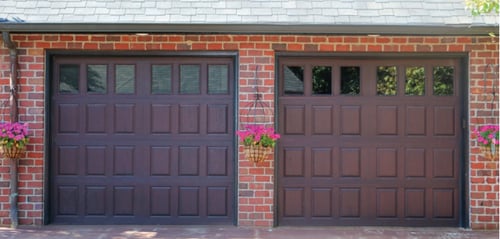 Fiberglass Garage Door with Raised Panels
→ Click here to Visit Our Residential Garage Door Catalog ←
The choice between a raised or recessed panel is mostly one of personal preference. While this is true, it may be a mistake to put a very decorative, bulky raised panel on a project with otherwise simple trim. The recessed panel can be used in almost any case – a choice that might be a bit understated in certain situations, but always 'safe'.
When considering the question of raised or recessed panels for your project don't overlook the overall number of panels the door will have. Panel layout plays a crucial role in how 'busy' a garage door may look. For example, an 8 x 7 garage door might have anywhere from two large panels to 32 raised or recessed panels. To achieve a pleasing appearance it is critical to consider how these different panel layouts will look when compared to the other exterior trims on the home. This is also true of garage door window designs.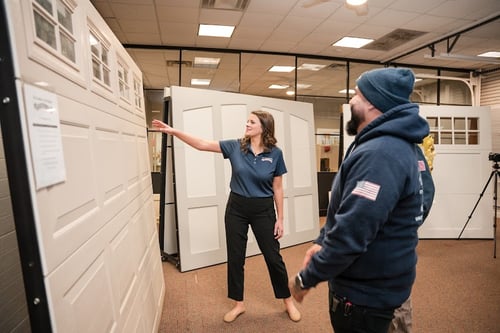 Overhead Door Co. of Central Jersey's Showroom
At Overhead Door Company of Central Jersey, we are always here to assist our customers with these design and layout choices. In addition to having a broad selection of doors on display in our showroom, we are able to work with a photo of your home to 'install' various doors and evaluate their appearance. Our product specialists can also offer suggestions based on the design of your home and on past projects.
No matter if your home is large or small, new or old, modern, traditional, colonial or craftsman style, it is important to select a door with an appearance that works well. The overhead garage doors represent a large percentage of the exterior of most homes. The garage doors can also be very prominently displayed on the front elevation so the importance of appearance cannot be overlooked.
Overhead Door Company of Central Jersey has been selling, installing, and servicing overhead garage doors in the central Jersey area since 1972 - over 50 years – so you can be assured we will work with you to select the perfect garage door for your project. Of course, we also offer a full line of garage door automation and convenience products.
Call us at 908-722-5785, request a home visit, or come to our showroom on Route 202 South in Branchburg, NJ between River Road and Readington Road.