-------------------- P R O M O E N D E D --------------------
Transform the look of your home by replacing your garage door and your garage door opener this spring. From now until 5/15/2023, choose from select fiberglass, aluminum, or steel garage doors to give your home's curb appeal an upgrade and receive a rebate of up to $1,000!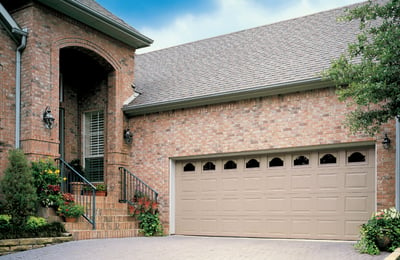 Thermacore® Collection - Traditional Style Garage Door
Visit our showroom, or ask one of our experts to visit your home to help you match your home's aesthetics, increase your home's beauty, and add value to your property.
Our experts will advise you on the various types of garage doors, styles, and materials available, to help you select the most suitable option based on your preferences, budget, and specific requirements. Our qualified professionals will also take accurate measurements to ensure the door fits perfectly and is installed correctly, which can help prevent future problems and ensure the door operates smoothly and efficiently. Additionally, they can provide valuable guidance on maintenance and upkeep, which can help extend the life of the garage door and maximize its performance. Overall, working with a qualified garage door installer can give homeowners peace of mind and ensure they make a well-informed decision when choosing a new or replacement garage door for their home.


Step One: Choose Your New Garage Door
Choose your new garage door:



Step Two: New Garage Door Opener
Pair your new garage door with a garage door opener Odyssey® 1000 (integrated with OHD Anywhere)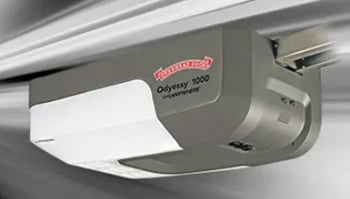 Garage Door Opener Odyssey® 1000

Step Three: Submit Your Rebate
After your garage door has been installed by Overhead Door Co. of Central Jersey, and you receive your invoice, complete the rebate form. Your rebate will be mailed out to the address provided below and must be postmarked by July 15th, 2023.
Overhead Door Brand
2501 S. State Highway 121 Business, Suite 200
Lewisville, TX 75067
Attn: Spring Rebate
For further questions about your rebate, please email OHD_RebateClaims@overheaddoor.com, or call 1-855-493-3667.

**Forms must be submitted by July 31, 2023.
---
Why Choose Overhead Door™ Brand
The Overhead Door™ brand has been the number one brand chosen by women for 13 straight years, having been named the Women's Choice award winner for 2023. In addition to being top of mind among women, garage doors have also been the #1 ROI project when it comes to home improvement in the last two years

according to the Cost versus Value report.

Sprucing up the exterior of your home and creating eye-catching curb appeal can really increase your home's value.
---
Terms & Conditions

- Valid for NEW residential orders only
- Orders must be placed between 3/15/23 and 5/15/23
- Cannot be combined with any other offer
- All qualifying items must be purchased in one order
- Offer available while supplies last

- Proof of purchase is required to claim a rebate
- Rebate will be deducted from returned promotional items
- Overhead Door™ Brand reserves the right to cancel this promotion at any time
- Some restrictions may apply