A dock leveler is a bridge that covers the gap between a facility and the transport vehicle, not only protecting the products during the loading or unloading process but also your staff. It is designed to compensate for the difference in height between your loading dock and the bed of the vehicle.

When having a loading dock as part of your operations, it is vital to ensure maximum flexibility and full functionality in this crucial work area. This usually means accommodating a variety of trucks with different bed heights. This is basically the reason to acquire a dock leveler (also known as dock plate) that can provide efficient and safe access for all those different truck sizes.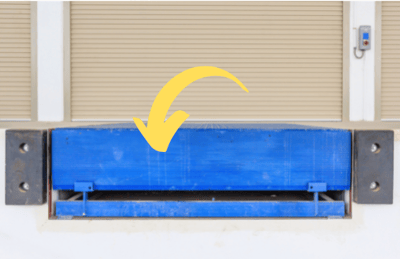 Dock Leveler with Dock Bumpers
Before you purchase a dock leveler, it is very important that you can identify which dock leveler will work for you. It's imperative to figure out the type of dock leveler that will work best for you based on your budget, size, and capacity.

Mechanical Dock Levelers

A mechanical dock leveler is an economical solution for basic applications, while still providing strength and durability. It also offers the lowest lifetime operating costs, therefore, it is very easy to maintain and service. There is a variety of mechanical levelers that execute a range of applications and offer different capacities and sizes.

We can highly recommend the MP Mechanical Pit Leveler from one of our authorized manufacturers: McGuire. McGuire has been manufacturing loading dock levelers in the USA for decades. Their high-quality pit-levelers have been proven over the years to be some of the strongest and most reliable levelers on the market, providing a smooth and efficient loading process.
MP Mechanical Dock Leveler by McGuire
The mechanical dock leveler uses a simple pull chain activation to raise the deck, so it incorporates a cam and roller counterbalance for smooth and safe operation. The operator then simply walks the deck back down to the bed of a trailer or to a stored position. This means that you can easily install a pit leveler in a performed pit to solve any grade and height differentials. Not only do they offer this, but each leveler type also comes in a variety of sizes and capacities to meet any loading dock requirements.

Mechanical Edge-of-Dock Leveler
---


Types of Dock Levelers
At Overhead Door Company of Central Jersey, we offer different types of dock levelers, some can be activated automatically, some can be activated manually. The dock levelers that we sell, install and service are pit-style levelers, edge-of-dock, and/or vertical storing. These can be hydraulic (activated automatically), mechanical (activated manually), or air-powered.
If you don't know where to start, that is what we're here for! Our team members will be happy to assist For more information on the different types of dock levelers, you can call us at 908-722-5785 or email us at comm@overheaddoorco.com.

Our experienced team has assisted many clients with their loading dock equipment needs.