Did you know Overhead Door Co. of Central Jersey does more than just overhead garage doors? We also sell, install and service all types of loading dock equipment, including, edge-of-dock levelers, as well as hydraulic and mechanical dock plates.
Hydraulic Edge-of-Dock Levelers
One product that may often resolve a loading dock problem is a hydraulic edge-of-dock leveler. Unlike a full-size dock leveler, an edge-of-dock leveler (EOD) does not require a pit. These offer greater safety and higher capacity than the use of transition plates while keeping budget in mind.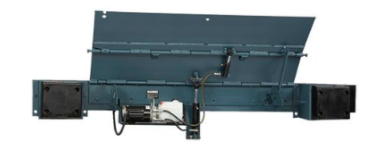 Hydraulic Edge-of-Dock Leveler
The EOD leveler is attached, as the name implies, to the edge of the warehouse floor. It consists of a fixed portion and a hinged lip that rests on the truck floor. These plates offer capacities up to 35,000 pounds with lips up to 17". Where a pit leveler is not feasible, these units often provide an adequate solution to bridging the gap.
These units are best used when the transition from dock to the truck is not too large. The suggested working range is typically + / - 3" above and below dock level while the maximum working range would be in the neighborhood of + / - 5" above and below dock level.
While edge-of-dock levelers are available in a spring-loaded manually operated version (known as mechanical edge-of-docks), the hydraulic series offers additional convenience and safety. We usually recommend the hydraulic version, if the budget allows it.
Mechanical Edge-of-Dock in Operation
Units are designed to self-store (return to the resting position) when a truck or trailer departs and can be returned to the stored position without moving the truck or trailer. Operation is via a single pushbutton, so there is no bending and tugging required. The motor and pump assembly, which is available with 120 or 208-volt single-phase or 208, 230 and 460-volt three-phase wiring, is conveniently mounted below the unit.
Two heavy-duty 4" thick x 12" high x 13" wide molded rubber bumpers included as standard are mounted to bumper block assemblies to help protect the dock plate and building from approaching trailers. Bumper block assemblies are constructed of formed steel and incorporate a full-height internal gusset for extra support.
If you have been looking for a loading dock solution that does not require alterations to your building such as installing pits, hydraulic edge-of-dock levelers could be your answer.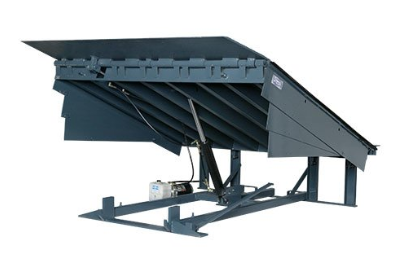 Pit-Style Dock Levelers (Dock Plates)
→ Suggested Lecture: What is a Pit-Style Dock Leveler? ←
Contact us today to learn more about our full line of loading dock equipment including edge and pit levelers, dock seals, truck restraints, light communication systems for loading docks, and dock bumpers. Along with our rolling, sectional, high speed and other commercial or industrial garage doors, Overhead Door Co. of Central Jersey can provide your total loading dock solution.
We are conveniently located at 952 Route 202 South at River Road, Branchburg, NJ.
Call us at 908-722-5785. Our product specialists are always ready to assist you with product selection and design to provide the best solution for your loading dock equipment requirements.