Your business may have to spend large amounts on plants, factories, showrooms, warehouses, and so forth. The costs of commercial garage doors are a small part of these expenditures, so why not get the best doors available for your application? There is absolutely no reason to skimp on function, style or durability. You can count on Overhead Door for all three, and at very competitive prices.
Types of Commercial Overhead Doors:
The primary decision you have to make is exactly what kind of commercial overhead door you need:
Sectional doors are a top choice when you are concerned about security and thermal efficiency. They also fill the bill when you desire the visibility and light afforded by window inserts. Sectional doors with top thermal properties are appropriate for facilities dealing with foods/beverages, pharmaceuticals, cryogenics, secret government functions, and many more.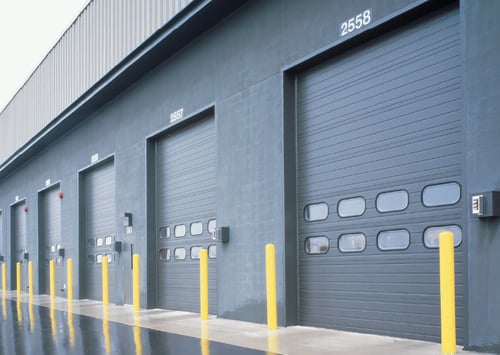 Sectional Steel Doors
Among the top doors in this market, the Thermacore AP Model 850, one of the most durable and maintenance-free thermal doors on the market. The 850 provides an astounding R-value of 26.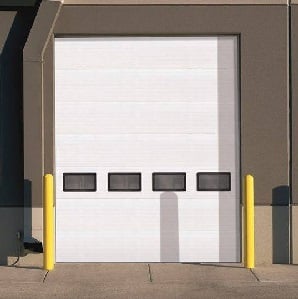 Insulated Sectional Steel Door: Thermacore Model 850 with RV-26
Remember when picking out a sectional door to specify the exact window glazing and material options you want. For this application, it's hard to beat steel doors. Of course, you can choose various configurations of sectional garage doors with variations in panels, rails and stiles, ribbing, and so forth. Sectional steel doors are often used in industrial and commercial loading docks, and can be configured with extra security features.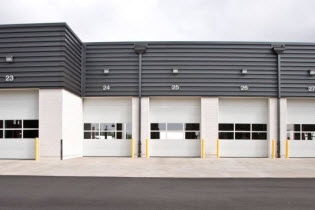 Sectional Steel Doors with Windows
A perfect answer for tight spaces that demand a secure and durable commercial door. The design minimizes the need for headroom, backroom, and side room. In other words, rolling doors can go where sectional doors cannot. They work by constructing interlocking slats that wind around a barrel. You often see rolling doors at service entrances and as counter shutters.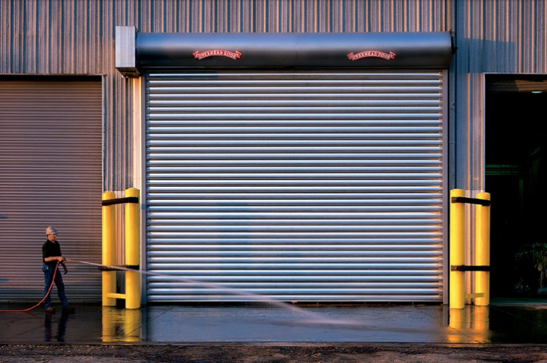 Roll-up Door (also known as Rolling Door)
You would also include security grills in this category. A prime example is the RapidGrille AP Model 676, an advanced security grille favored by parking garages, public facilities, and loading docks. What sets the Model 676 apart from the rest is its outstanding durability and rich system diagnostics. It provides advanced safety features such as a self-monitoring sensor edge, photoelectric sensors and an automatic stop lock brake. This reliable door is constructed with galvanized steel rods/links and mill aluminum spacer tubes in a straight lattice design.
Similar to rolling doors but with a fire rating to resist the spread of flames. They are used in commercial facilities that require a listed fire door in a rated firewall. The door may use fusible links that release the door at temperatures above 165 degrees. You can also configure these doors to close in response to heat or smoke detectors.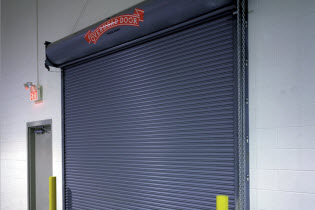 Fire-Rated Door (Rolling Door)
→ Suggested Read: Fire-Rated Door Annual Inspection & Drop Test ←
We recommend the FireKing Insulated Fire Door Model 635. It has a maximum height and width of 24 feet and provides a thermal barrier, an R-value of 4.5, sound transmission control, and an outstanding Smoke and Flame Index of 5. Model 635 features a mechanical auto-resettable hoist, an available Fire Sentinel time-delay release system, smoke detectors, strobes, horns, and FireLite vision lights.
These are rolling doors that open and close rapidly. Some are built with flimsy fabric, but the best ones are constructed using stainless steel or aluminum in curved or flat profiles.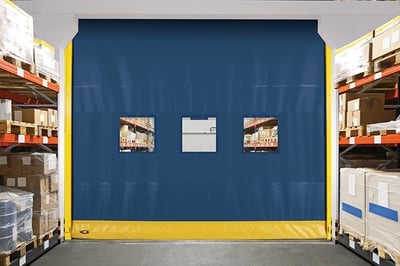 Fabric High-Speed Doors, Fabric Traffic Doors
One of our favorites is the RapidSlat Model 611, which features high durability, increased productivity, high cycles, and secure air circulation. A direct drive hypoid gear motor/brake assembly delivers speeds of 20 inches per second up and 12 inches per second down. The curtain is constructed with interlocking roll-formed slats and end locks attached to prevent lateral movement. Like many Overhead Door metal doors, it is finished in a PowerGuard Premium powder coat with a hardening additive.
High-Speed Rolling Door: RapidSlat Model 611
If you are planning the purchase of commercial doors and want more information of how to choose the best one for your application, contact Dave Parfitt at dave@overheaddoorco.com or 908-702-5785 and find out why our doors are America's favorite.