Residential garage doors can be and are constructed of many different materials. There is often confusion regarding the type of material a particular garage door may be made of. Doors are designed with different materials for a variety of reasons. In this post, you will learn the main differences between aluminum vs. steel garage doors.
Steel Garage Doors
At Overhead Door Co. of Central Jersey, we often receive inquiries about 'aluminum garage doors' when the caller is actually referring to a typical 'steel raised panel garage door'. Many of today's products are maintenance-free, pre-painted steel. These include raised panel designs, flush designs, carriage house styles, and others.
The steel used in the construction of these garage doors is typically galvanized, prime painted, then finished painted with baked-on paint. This product is generally available in several colors. This provides a very durable product with very low maintenance requirements. But…they are not aluminum. In this type of construction, steel is more durable, more stable, and more affordable. The photos below show some typical garage door products fabricated from steel.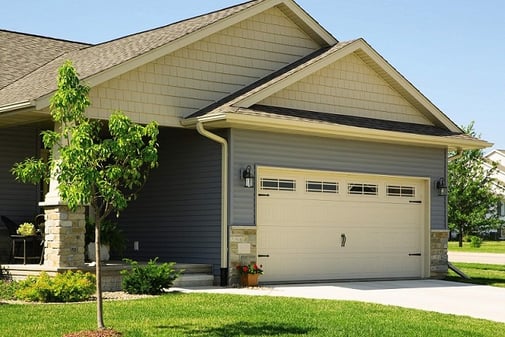 Traditional Steel Garage Doors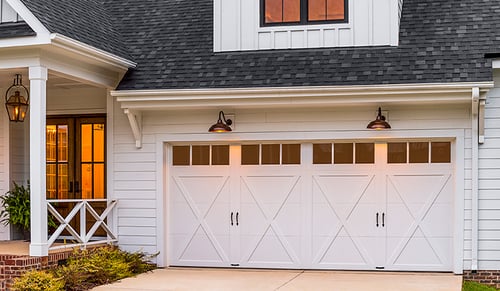 Carriage House Steel Garage Door

Aluminum Garage Doors
Aluminum garage doors are available for residential use as well. These products are normally thought of as 'modern'. Construction is quite different than a door made from steel. Where the steel door will have a section made from one piece of steel that has a design stamped into it or an overlay applied to it, the aluminum product will be made from a number of components. These components are extruded aluminum shapes that are assembled to create each section of the garage door. The components include 'rails' – the horizontal member at the top and bottom of each garage door section, 'stiles' – the vertical members that divide the panels or windows.
Sections can be designed to have various numbers of panels or windows. For example, you may wish to have a sixteen-foot wide door with four panels across or six panels across, depending on the design of the building. There are many glazing options offered including clear, frosted, obscure, tinted, and so on.
The aluminum frames are available with several different anodized finishes. Additionally, these frames can be powder coated in hundreds of different colors to match your project. The photos below show some typical aluminum garage door products.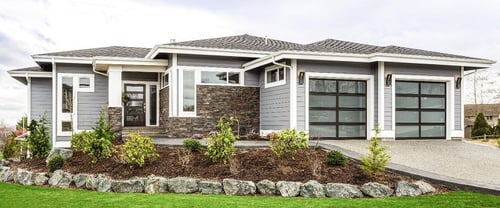 Aluminum Glass Garage Doors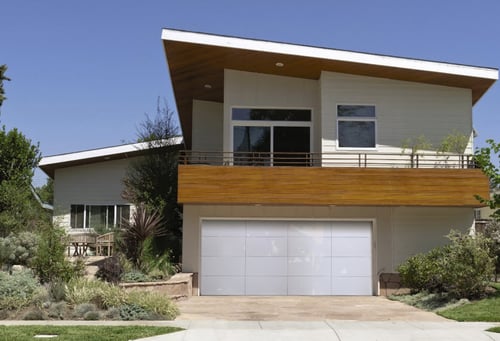 Aluminum Glass Garage Doors
Some questions to ask yourself before your garage door purchase are:
– Which door will provide a better value over time?
– Does my door need to be rust-resistant?
– Does my garage door need to be durable?
As you can see, there is a distinct difference between aluminum and steel garage door products. There isn't a "right" answer to whether a steel or aluminum garage door is better. Factors such as your house style, garage door budget and needs may cause one type of door to be more beneficial to you than the other.
At Overhead Door Co. of Central Jersey, our primary goal is to assist you in selecting the most appropriate garage door product for your project. We are always here to review available product choices and to discuss the pros and cons of each as they pertain to your project.
We have been selling, installing, and servicing quality garage doors and automatic garage door openers in the Central Jersey market for 50 years – since 1972.
Contact us today to learn more about these exciting products! Our showroom is conveniently located at 952 Route 202 South and River Road in Branchburg, NJ. We can be reached on the phone at 908-722-5785 and we are on the web at www.OverheadDoorCo.com.