Every detail matters when constructing a new home or renovating an existing residence. When it comes to selecting garage door styles for Craftsman or Arts & Crafts style homes there has never been more available choices than there are today! The great news about craftsman-style architecture – it will support quite a few choices. This allows us to assist with finding a garage door that fits your style and fits your budget.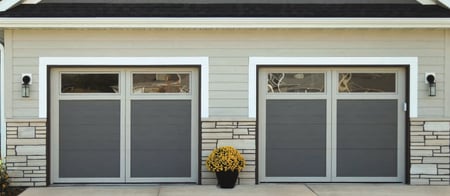 Carriage House Garage Doors
At Overhead Door Co. of Central Jersey, we are often asked 'what is the best garage door style for my project?" In some cases, few choices may be appropriate. In the case of craftsman-style homes, the choices are quite broad. From budget-friendly raised panel garage doors to semi-custom and custom carriage house style garage doors, products can be easily matched to the home. For the most discerning buyer, a carriage-style garage door that matches well with the entry door and windows might be the most appropriate choice. These barn doors come in an almost infinite number of designs and finish options. Carriage house doors can be fabricated in wood, steel, vinyl and composite materials. The doors may be ordered ready for finishing or prefinished depending on the exact product choice and customer preference. Some products will be limited to paint finishes while others may be either painted or stained.

Carriage House Garage Doors
→ Click here to visit our Residential Garage Door Catalog ←
If a carriage house-style garage door does not seem like the right choice due to style or budget, a wide variety of raised and recessed panel steel garage door products in a more 'off the shelf' category can be quite appropriate. Panels are available in plain raised, wainscoted or recessed styles. These products offer many window design choices and are offered in a variety of colors. These steel products are also available with different levels of insulation so you can select an "R" value that makes sense for your garage.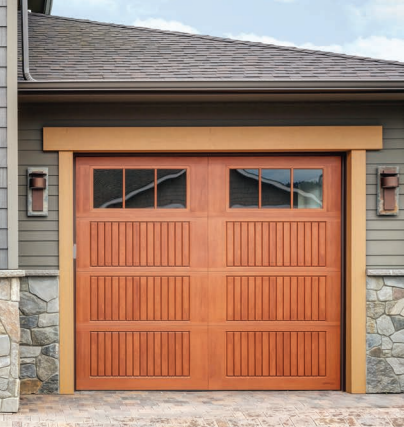 Residential Garage Door with Vertical Long Raised Panels
So, no windows, square windows, arched windows, carriage house style, regular panel style, hollow or insulated, ready to finish or pre-finished, we can assist you with selecting the perfect garage door product for your craftsman style home.

Residential Garage Door with Vertical Long Raised Panels
Overhead Door Co. of Central Jersey has product professionals available to answer your questions, provide architectural renderings and offer guidance on which products might be the best fit based on job site conditions, style, and budget.
Overhead Door Co. of Central Jersey also offers a full line of decorative garage door hardware to complement the look of your garage door, and, of course, a full line of automatic garage door openers and accessories. These products allow you to complete the look and convenience of your new garage door installation in one-stop. We can be found on the web at www.OverheadDoorCo.com, by phone at 908-722-5785 or by visiting our showroom.