It's important to protect your facility by installing tough and reliable roll-up doors that can withstand harsh weather conditions such as rain, high winds, snow and other elements. High-performance doors are made to function properly in regular and large openings. At Overhead Door Co. of Central Jersey, we offer high-performance doors for large openings.
Oversized high-performance doors, are specially designed to handle the requirements of large, heavy-duty equipment.
Benefits of Installing High-Performance Doors in Large Openings:
1. Strong Motors
When manufacturing an oversized industrial or commercial rolling doors, these must be designed differently due to their size and weight. Instead of the standard one motor door, large high-performance doors often utilize two motors to move the door panels. In the end, it results in longer motor life.

2. Rugged, Industrial-Strength Construction
Regardless of variations in ambient temperature and weather conditions the heavy-duty rubber high-performance doors provide excellent durability and flexibility.

3. Wind-Resistance
Commercial and industrial overhead doors must be designed to dynamically respond to high-pressure wind load, mainly in the East Coast area in order to be prepared for hurricane season.

4. Less Downtime
High-performance doors must withstand the impact of accidental collisions. Some of the high-performance rubber that we have available at Overhead Door Co. of Central Jersey release the side frames or the bottom bar without damage to the panel, and to minimize downtime and keep big production equipment in movement they can be automatically reset within minutes.

5. Comfortable Environment
One of the benefits of installing a high-performance door is their fast opening and closing speed. This helps maintain a comfortable environment for workers inside facilities, no matter the harsh conditions outside
6. Safety
Another benefit of having a fast opening and closing roll-down door is that it reduces the risk of tailgating and piggybacking, or the entrance of unauthorized traffic into the facility.

7. Excellent Up-time
We offer high-performance doors that are designed without conventional torsion springs or wear parts that virtually eliminate maintenance needs, ensuring trouble-free operation, 24 hours a day, 7 days a week with integrated controls and diagnostics. These doors are known to be virtually indestructible to meet the demands of the world's most extreme environments.

8. Custom Fit
As mentioned earlier, high-performance overhead doors can be custom manufactured for larger openings and are built to last.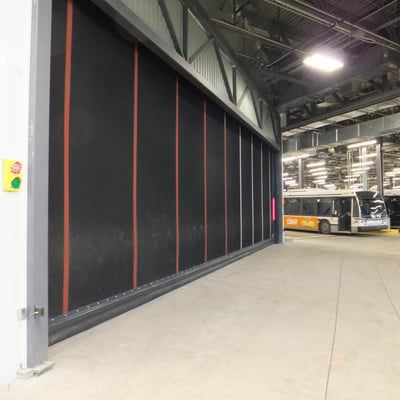 At Overhead Door Company of Central Jersey, we sell, install, repair and maintain both, metal and fabric high-performance doors (high-speed doors). Our specialized technicians are waiting for your call to discuss your commercial/industrial door and loading dock requirements.
Call at 908-722-5785 or email us at comm@overheaddoorco.com.