Without proper garage door maintenance, you or your family could be stuck in your garage, or even worse, stuck outside as temperatures plummet during the winter months. Winterizing is a key part of any home's annual maintenance, but if your garage door is overlooked the results can be inconvenient and even dangerous. During cold weather, here are a few common garage door issues homeowners encounter, as well as the steps to safely repair your garage door from cold weather.
Common Issue #1: My Garage Door is Not Opening
If you have an automatic garage door opener and your garage door is not working properly, disconnect the opener and try to open the door manually.
Please make sure to disconnect the opener when the garage door is in the closed position.
Learn How to Manually Open Your Garage Door
If the door opens properly, then most likely the issue is related to your door opener. Check the batteries for your opener´s remote and try reconnecting the garage door opener again. If the door still doesn't work, call 908-722-5785. Our certified technicians can help you diagnose issues related to your opener and power supply.
Important note: Keep in mind that some opener issues may require a trained professional for safety purposes or to maintain any warranties that your opener may have.

Issue #2: My Garage Door Won't Open. It IS Very Difficult and Heavy When I Try to Lift It
You may have a broken spring if your garage door won't open manually, or it feels like it weighs a ton as spring wire becomes more brittle and therefore weakens in colder temperatures. This happens more often in the winter/colder months.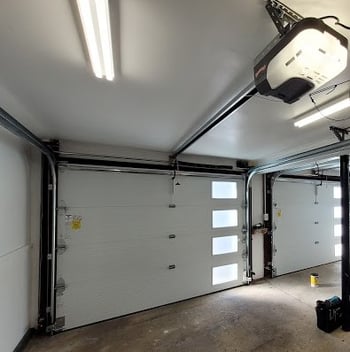 Insulated Garage Door Photo from the Inside
If you have heard a popping noise when opened or closed your door recently, that may have been your garage door spring breaking. You may be able to see the long coil above your garage door split into two pieces if your spring is broken.
If you've been living in your home for 7+ years, we recommend having your springs replaced to avoid being unable to open your garage door, either being stuck outside or inside. Garage door springs are usually rated for 10,000 cycles, with each cycle being an open and close of the door.
Call Overhead Door Company of Central Jersey right away if you suspect your spring is broken. Attempting to repair this on your own could result in serious injury (or even death). This repair must be handled only by a professional.



Common Issue #3: My Garage Door is Frozen
This happens when your bottom weatherseal sits in water or wet snow that eventually freezes when the temperature drops. If your garage door is stuck and you see ice or snow around the bottom of the door, your door could be frozen to the concrete.
Use warm water to melt the ice or gently chip away at the ice to fix a frozen garage door. To prevent the door from refreezing, when you have finished raise your garage door, clean and dry the area.
→ Do NOT try to force your door open and break the ice as you could rip your weatherseal, allowing water, snow and cold air into your garage.
→ Do NOT use ice melt on your door, especially if it is a metal garage door. Many homeowners use ice melt during the winter months, if it gets on your door be sure to clean the door as soon as you can.
Waxing your door can be a great way to prevent ice melt from sticking to your door.
What works for one garage door may cause damage to another due to different materials and environment. Over the years, we've heard many recommendations, from the seemingly clever to the downright strange, do not use "folk remedies" from friends or neighbors before checking with your us or your overhead door dealer. In order to get your door running smoothly, we can provide all the guidance you need.

Common Issue #4: My Garage Door Opens Partially/My Garage Door Does Not Roll Smoothly
As the temperature drops, lubricant can harden and get gunky, causing issues when you try to open or close your garage door. It could be a lubricant issue on the garage door rollers or in the track if your door opens, but doesn't roll smoothly or gets stuck at a certain spot in the track
→ Do NOT lubricate your nylon garage door rollers, which are typically black or white.
Watch this video to learn more about applying lubricant to your garage door parts:
→ Do NOT use WD-40 on your garage door as this lubricant can cause problems for your door in cold weather.
Clean and apply a silicone-based lubricant such as Clopay® Pro-Lube to the metal parts of your door after applying a grease solvent to the moving parts of your door to remove any hardened lubricant.
If you still need a garage door repair or a garage door opener repair, call right away. One of our experts will be more than happy to help. We've been serving customers in the Central Jersey area for over 45 years.
Call: 908-722-5785 or email resi@overheaddoorco.com
Learn about our annual garage door maintenance programs.