You can extend the lifespan of your garage door and increase its reliability if you take the time to inspect it and tune it up. Here are some simple ways to keep your garage door looking great and operating smoothly.
1st Step: Inspect Your Garage Door
You can inspect all the visible parts of your garage door hardware by yourself. This is not a difficult task and it will help ensure your door continues to operate smoothly.
✓ Check for garage door frayed cables, balky rollers/pulleys, loose/bent hinges, rusty or broken springs, and loose or missing bolts/screws.
✓ Apply the recommended lubricant to the garage door pulleys and rollers.
✓ Look at the garage door track to make sure it is aligned properly.
✓ Tighten down loose fittings and replace any missing or damaged hardware.
If you notice that you have broken springs or frayed cables in your garage door system, it is very important that you call a certified technician to make these corrections/repairs. These are under heavy tension and can cause serious injury (or even death) if improperly released.




→ Suggested Lecture: Best Garage Door Safety Tips ←




2nd Step: Clean Your Garage & Wash Your Door
✓ Remove grease, grime, and dirt that may have accumulated over time.
✓ Wash and rinse your garage doors. Make sure you use a mild detergent and warm water. You may want to use special cleaning products if your doors are made of wood. When dry, you can apply a high-quality wax to protect the surface finish.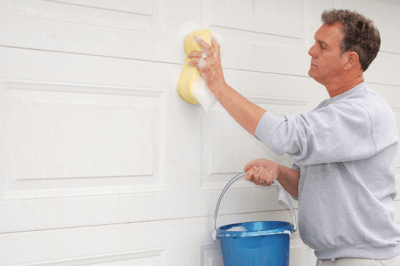 3rd Step: Get Rid of the Rust
✓ Removing the rust of the metal parts will extend your door's life. Use sandpaper to remove the rust, prime the part with a zinc-rich primer and then apply a properly colored, high-quality exterior latex paint.


4th Step: Paint and Refinishing Your Garage Door
If you have a steel or vinyl garage door, you can follow the wash and rust-removal tasks by applying a fresh coat of paint. Make sure you paint only when the day is not rainy, windy, or too sunny.
- Steel and aluminum garage doors should be painted with 100 percent acrylic latex paint rated for exterior use. Sand any plastic parts to remove their gloss before painting.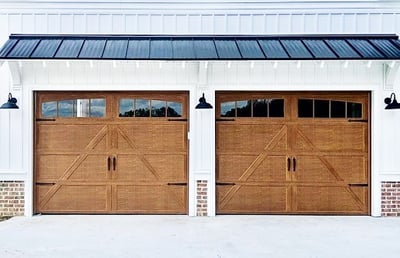 Steel Carriage House Garage Doors
- Vinyl doors require special acrylic/urethane paint specifically labeled for use on vinyl. If your vinyl door is light-colored, refrain from repainting it a dark color, as this can cause heat buildup that may buckle or crack the door. ** Always check with the manufacturer or his local representative before painting a vinyl garage door. You may wind up voiding your warranty!

Vinyl Garage Door
- Wood garage doors may be painted or stained. If your painted door has loose or flakey paint, wash it with tri-sodium phosphate and, after it dries, use a hook-blade paint scrapper and/or random orbit sander to remove loose paint. Feather the rough edges with the sander. Dust the door and then apply primer, followed by a couple of coats of exterior latex paints. If your doors are relatively free of gouges and dings, use glossy paint to better protect the door from dirt, abrasion, grease, and staining.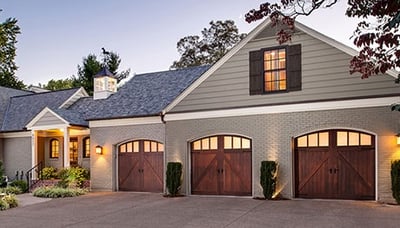 Wood Carriage House Garage Doors

- Natural finish doors can be sanded with medium to fine sandpaper down to the bare wood. If the doors have been varnished, you can accelerate the process by first applying the appropriate stripper before sanding. You can use a power washer to remove the stripper, or simply a bucket and rag. If your door shows any signs of mold, apply a dilute bleach solution before sanding. After sanding, apply several coats of exterior penetrating finish formulated for the preservation of outdoor wood. The choice of sheen is up to you -- many folks prefer the look of satin or semi-gloss, but a high-gloss finish will provide the maximum protection. The product should be treated to protect the wood surface from harmful UV rays.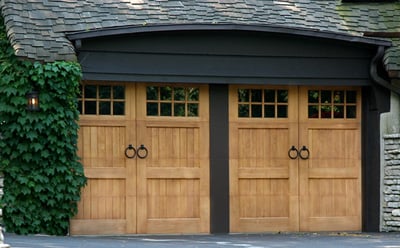 Carriage House Garage Doors with Accessories
Annual Inspection by a Garage Door Technician
Remember, it is also important to call your certified technician to service your door at least once per year to keep it in optimal conditions. Proper maintenance in your garage door can reduce costly repairs and even more expensive replacements.
Learn more about our residential door maintenance plans in Central Jersey.