Is it a good idea to use an LED light bulb in your garage door opener? The answer is maybe. LED light bulbs are a great innovation – energy-saving, long-lasting, reliable lighting.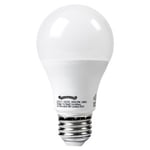 LED Light Bulb for Garage Door
In most cases, LED lighting can be used in an automatic garage door opener system and everything will work fine. This being said, there are some cases where installing an LED bulb in your garage door opener can cause a bit of trouble.


Can a LED Light Bulb Cause Trouble with my Garage Door Opener?
A LED bulb sometimes can interfere with the radio control signals so the garage door will not open reliably when activated by the radio control transmitter.
If you are old enough to remember the days a fluorescent light fixture interfered with an AM/FM radio, you will understand. We are often asked how to determine if an LED bulb or a CFL bulb will create a problem with the operation of a particular automatic garage door opener system.


Test LED Light Bulbs in Your Garage Door
In most cases, the best answer we can give is to try it – if everything works normally, great news. If the opener system has historically worked reliably and after changing the lighting to LED it begins to act erratically, it is a good bet the light bulb is the problem. Remove the bulbs and try the unit again – if the problem is resolved, you will need to return to using conventional light bulbs.

Buy Garage Door Opener LED Bulbs
When selecting LED bulbs, remember all bulbs are not created equal. Some are more attractively priced than others. We recommend buying a name brand – even if it costs a bit more. LED bulbs use a power supply that can emit electromagnetic interference. This is what causes the problem for the radio control signal. In general, better bulbs will emit less interference allowing your radio control signal to work properly. Newer opener systems are more likely to function with LED bulbs and some manufacturers offer bulbs that have been tested for electromagnetic interference. If you find bulbs purchased at the local department store are creating operational issues, check with a local garage door dealer such as Overhead Door Co. of Central Jersey to see if they stock low interference LED light bulbs. Typically these specialty bulbs would be 60 watt equivalent, low interference, and non-dimmable, cold weather tested, and suitable for damp locations.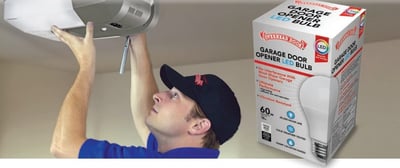 Garage Door Opener LED Bulb
So – if you are trying to become incandescent-free, go ahead and replace the bulbs in your garage door opener. If the radio control range (distance of operation) and reliability are unchanged, everything is fine. If there is a noticeable difference in range or reliability, consider a specialty bulb or go back to a regular rough service incandescent bulb.
→ Suggested Article: Control and Monitor Your Garage Door from Anywhere ←
Also – keep in mind any other light bulb or fixture changes if your garage door opener system begins to be unreliable when activated by the radio control transmitter. For example, if you recently added four LED shop light fixtures to your garage and the garage door opener system suddenly becomes less reliable or the radio control does not function, the LED fixtures could be causing the problem. Turn off and unplug these fixtures and try the garage door opener system. If it works properly your new fixtures are most probably emitting too much interference for the receiver board in the garage door opener system.
Our highly skilled technicians at Overhead Door Company of Central Jersey can install cost-effective and efficient LED lighting solutions for your garage door opener.
→ Suggested Article: Residential Garage Door Openers Best Sellers ←
If you have additional questions, feel free to contact us. Call 908-722-5785 or email us at resi@overheaddoorco.com. We've been serving the Central Jersey area for 50+ years!