Keep the cold weather outside your premises by installing commercial door seals or loading dock seals.
Winter is here, heating dollars are being spent and your staff is still uncomfortable. Have you taken steps to prepare your warehouse or shop area for cold weather? Your overhead doors can be a significant source of heat loss. What can you do to reduce the leakage through these large door openings?
At Overhead Door Co. of Central Jersey, we assist many clients in achieving a more complete seal around the perimeter of their exterior overhead doors. The amount of leakage around these exterior shop, warehouse or loading dock doors can be significant and is often overlooked. There are many steps you can take to reduce this uncomfortable and costly leakage. Let's take a look at a few possible problem areas and potential solutions.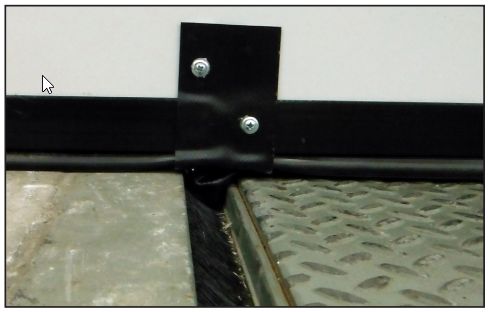 Draft Wedge Seals for Commercial Doors and Loading Dock Equipment
First, and most obvious, is the bottom seal of the door. Is it in good condition? Does it completely seal from side to side? If not, we have many different ways to either replace or improve the effectiveness of the bottom seal. There are a number of solutions that will assist in closing larger gaps and, if necessary, assist in preventing rodent damage. These products provide a high degree of durability and flexibility through a broad range of temperatures and can be fitted to most door products.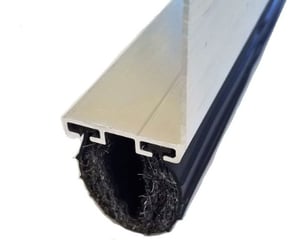 Rodent Seal for Commercial Doors
Next, take a look at the perimeter of your overhead door products. Are the top and sides adequately sealed? This is one of the most overlooked or neglected areas we see when it comes to weather seal. Maybe an adequate seal was never installed, or maybe it has deteriorated or been damaged over a period of time. As is the case with bottom seal, there is a wide variety of solutions for side and top weather seal. A few solutions would include seals mounted directly to track angles or guide angles, brush type seals and PVC seal with integral vinyl weather seal to be mounted to the door jamb. The best solution is dependent upon the door type, the jamb type and the usage of the overhead door. Of course, for any seal to work properly, the door hardware must be in good condition and properly adjusted. Loose tracking, missing rollers, bent or broken hinges and other hardware items can impact how well your door fits against the weather seal. Also consider any cracked, loose-fitting or damaged windows.
While we are talking about the perimeter, if the building has loading docks, it is important to consider the adequacy and condition of any dock seal products that might be in use. Truck shelters and dock seals need to be in good condition and properly attached to do their job effectively. The amount of leakage around an opening can be largely reduced with the use of these products. From fixed mount to adjustable headers to flexible and inflatable shelters, there is a solution that will work for your loading dock.
We have focused mainly on sealing the door product here. Another item that can be easily overlooked is the seal or lack of seal around a loading dock board. A significant amount of air infiltration can occur around these dock boards. As with the bottom, top and sides of doors, there are solutions available that may dramatically reduce the gaps and drafts around the dock board.
When it comes to weather seal, consider having us out for a site survey to discuss ways that may increase comfort while reducing heating costs. Often, the cost of weather seal upgrades is easily offset by the savings on climate control costs with a bonus of improved employee morale.
At Overhead Door Co. of Central Jersey, you will find a knowledgeable staff that can assist with all of your sectional and rolling door needs from the most basic manually operated products to the most complex highly automated products. Some of the products we offer in addition to basic products are high-performance doors, high cycle doors and specialty doors such as fire-rated doors, as well as a full line of loading dock equipment.
We have been serving the Central Jersey market since 1972 - that's 47 years – and we look forward to assisting you!
Contact us today at 908-722-5785 or visit us on the web at www.OverheadDoorCo.com.