As we have pointed out in the past, garage doors are big, heavy moving objects that can hurt, pin and even kill pets and people. We've also pointed out the importance of a garage door monthly visual inspection. If during your inspection, or at any other time, you become aware of problems with the door's cables, rollers, pulleys, or springs, you should immediately unplug your door opener and not use the door until the problems are corrected.
Damaged Garage Doors Are Dangerous
Many things can go wrong with a door and cause injuries, including:
- Bent or warped tracks
- Loose or missing connectors, nuts, and screws
- Parts that make noise, such as a grinding or shearing sound, when operating
- Structures that shake, sway or stutter during operation
- Disconnected, squeaky, or lose springs
- A burnt smell or sparks flying from your electrical opener
- Failure to open or close fully, or at all
- Rust or corrosion, especially around moving parts
- Garage door broken cables
- Punctured or damaged door panels
- Failure of the auto-reversing sensor or electric eye to stop the movement of the door when an obstacle appears in the door's path
- Leaking grease or other substances
- Frayed electrical wire
- Unanticipated opening and closing of the door without prompting
- Animals caught in the gearing or track assemblies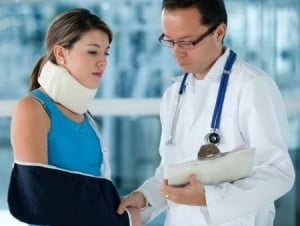 Person Injured By Operating by Damaged Garage Door
If you continue to operate a damaged door, you will only make the problem worse, increase the cost of repair and endanger someone's health. This is especially true for parts under high tension, such as cables and springs, that can seriously injure an unsuspecting person or pet. Clearly, if any of these conditions occur, you should call a professional and not use the door again until the problem is corrected.
→ Suggested Read: Why Is My Garage Door Squeaking? ←

Hire Certified Technicians to Repair Your Garage Door
The professionals at Overhead Door Company of Central Jersey are fully qualified to handle any garage door problem. Sadly, we've seen incidents that have led to serious injury because warning signs went unheeded or non-trained individuals with insufficient knowledge attempted to address problems. In some cases, owners have voided their warranties by using the wrong parts or botching the repair.
Many times, homeowners feel they have no choice to replace the door and/or opener, a very expensive proposition and one that could have been avoided through professional garage door maintenance and repair.
This is not always the case, however. Very often we can repair a door so that the inevitable replacement can be put off for a bit longer. This is an economic decision that always needs to be tempered with regard to safety.
Things to Avoid When Repairing Your Garage Door or Opener:
Here are some of the bad ideas we've seen homeowners apply to their garage doors and openers:
× Reusing an Old Track
You might like to take on DIY projects to save money and perhaps enjoy the satisfaction of doing it yourself. Saving money is generally a good thing, but is self-defeating in certain situations. One bad idea is to buy a new garage door and installing it on the old tracks. The chances are the new door will not fit correctly, due to differences in thickness, weight, required headroom, opener location, different size rollers, and many other factors. Look, you wouldn't put new linens on a bed that you discovered was infested with bedbugs. Don't put a nice new garage door on an old track that may be past its prime or unsuitable for the new gear.

× Not Protecting Your Fingers
If the garage door gets stuck midway in its closing cycle, don't stick your fingers between the slats sections to try and force the door the rest of the way down. Doors should have special handles or grips to move the door manually. Always release the door from the opener before attempting to manually move an automatic door.

× Avoid Messing With The Garage Door Springs
Failure to correctly release a spring's tension can be fatal. If you replace extension springs without also installing the safety cable, there is nothing to prevent the spring from flying loose and causing damage or injury.
The best advice we can give -- if in doubt, have a trained professional come to your premises to fix your garage door.
Call today 908-722-5785 or email us at resi@overheaddoorco.com.
We've been serving the Central Jersey area since 1972. Click here to read our customers' reviews.