It's important to have a wind-rated garage door that can withstand flying debris and excessive wind speeds to help minimize potential storm damage to your home. If you do not have a tested, wind-load resistant garage door, high winds can force it out of the opening, causing an uncontrolled buildup of internal pressure and ultimately a blowout of your home's roof and even the supporting walls.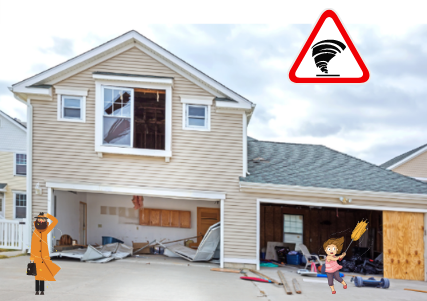 How Can You Know If Your Have a Wind-Rated Garage Door?
Look for the label on the inside of the garage door. Garage doors are required to have a permanent label showing series number, manufacturer, model, applicable test standard, as well as positive and negative design pressure rating.

→ Suggested Page: Wind-Load Resistant Garage Doors ←


Benefits of Installing a Wind-Load Resistant Garage Door:
✓ Protects Your Home: If the garage door fails or is ripped out of the track, air will rush inside causing an uncontrolled buildup of internal pressure and ultimately a blowout of your home's roof and even the supporting walls.
✓ Lowers Your Home Insurance: Wind-resistant garage doors may help lower the cost of your homeowners' insurance if you are buying an existing home, as the loss of garage doors was one of the major factors contributing to hurricane storm damage in homes, according to the Federal Emergency Management Agency (FEMA). If you install an impact-rated garage door, ask your insurance company about possible savings on your policy as such strength and durability in a garage door safeguards the entire house to an extent.


Beautiful Wind-Load Resistant Garage Doors Are Available
There's no need to sacrifice style for safety. With our impact-rated garage doors we're confident that you'll find a garage door that will look great and at the same time will protect your home.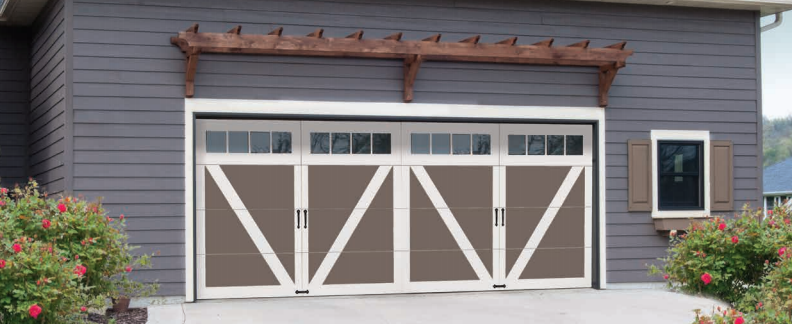 Courtyard Collection - WINDSTORM™ Wind Load Resistant Garage Doors

Factors to Consider When Choosing a Wind-Load Resistant Garage Door:
1. Research the wind load requirements for your geographic region. The local building code authority can provide current information and a professional garage door technician can perform an on-site inspection.
2. Know your garage door, If you moved into a new residence and did not purchase the garage door currently installed on your home, have a garage door professional inspect it to ensure it is the appropriate model for your area. Also, have them demonstrate how to secure the garage door during a storm.
3. Understand the difference between a "storm ready garage door model" vs. "garage door with add-on" reinforcement.
- With the "add-on" system, a homeowner must install long posts in the floor and ceiling to reinforce the garage door before the storm hits, and then remove them again afterwards to resume normal operation.
- The storm ready garage door models require no advance set-up. Reinforcement is contained within the structure of the door and is engaged by simply locking it - a time-saving convenience in the event of an evacuation notice or unexpected high wind event. This type of garage door is particularly beneficial to vacation home and rental property owners because they have peace of mind knowing that the garage door is secure as long as it's locked.
4. Retrofitting an older garage door with new hardware will not provide the structural support needed for the new building codes.
5. You can have safety in style. A reinforced garage door doesn't necessarily mean barricading the garage opening in a solid sea of steel. At Overhead Door Co. of Central Jersey, we also offer impact resistant windows.


Thermacore® Collection - Wind Load Resistant Garage Doors
Check Your Garage Door After a Hurricane
It's important to have your wind-load rated garage door checked by a technician after a storm or before hurricane season, to make sure none of the moving parts were damaged or weakened. Contact us. Our certified technicians can inspect your garage door.

Keep Your Garage Door Working During a Power Outage
Garage door openers are manufactured and sold separately from the garage door itself, and there are several models to choose from. If you are thinking of replacing your garage door, it may also be time to upgrade to a battery back-up garage door opener so even if the power goes out, you can get in and out of the garage. Just in case, it's also good to know how to manually open your garage door. Learn how to open it without power.

Contact Us
At Overhead Door Co. of Central Jersey, our primary goal is to assist you in selecting the most appropriate garage door product for your project. We are always here to review available product choices and to discuss the pros and cons of each as they pertain to your project.
We have been selling, installing, and servicing quality garage door and automatic garage door opener products in the Central Jersey market for 47 years – since 1972.
Contact us today to learn more about these exciting products! We can be reached on the phone at 908-645-0718 or email us at sales@overheaddoorco.com
Our showroom is conveniently located at 952 Route 202 South and River Road in Branchburg, NJ.