Choosing the right material for your garage door requires a mix of functional, cost, and aesthetic considerations. Happily, homeowners have a wide choice of materials and styles available to them, so it's usually not a problem to find the perfect door for any situation. Overhead Door uses a wide selection of materials, including steel, aluminum, wood, fiberglass, vinyl, and, of course, glass for our residential garage doors.
Table of Content:
1. Wood Garage Doors
2. Steel Garage Doors
3. Modern Aluminum Glass Garage Doors
4. Fiberglass Garage Doors
5. Vinyl Garage Doors
6. Glazing Garage Doors


1. Wood Garage Doors




Without a doubt, wood creates the richest-looking garage door. Its natural beauty is undeniable, and different species provide a whole range of looks, including color, grain patterns, and textures. Wood can be carved or milled in various patterns and it can be painted or stained, depending on the homeowner's preference. You can sand and refinish the wood to change its looks, and small chips and dents are easy to repair. However, wood is heavy, more expensive than vinyl, and susceptible to weather and certain insects. Nonetheless, for an elegant design, nothing surpasses wood.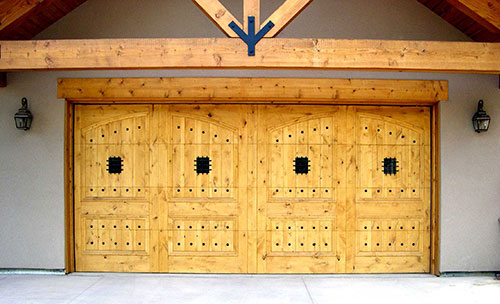 Custom Made Wood Garage Door by Arizona Custome Garage Doors
The Overhead Door Traditional Wood Collection® features flush or rail-and-stile (raised or framed panel) designs. The Signature Carriage Door Collection® delivers Amish craftsmanship in a sectional door that looks like a swing-open door. Choices of wood species include hemlock, cedar, and mahogany, as well as paint-grade plywood and hardboard. These doors are popular for carriage-house designs but work equally well with sleek, modern designs.


2. Steel Garage Doors
Steel garage doors are durable, strong, and surprisingly economical. It must be painted powder-coated or clad to avoid rusting. Steel doors can mimic painted wood ones via stamped-on grain, and can be insulated to fight the wind, sound, and temperature infiltration.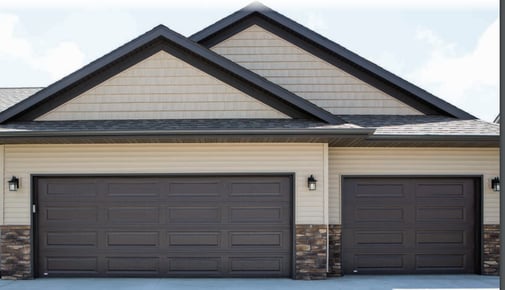 Traditional Steel Garage Doors
The Overhead Door Traditional Steel Collection® is available in wainscot, raised-panel, or long-panel designs. These doors are made from hot-dipped galvanized steel with a double coating of baked-on polyester paint.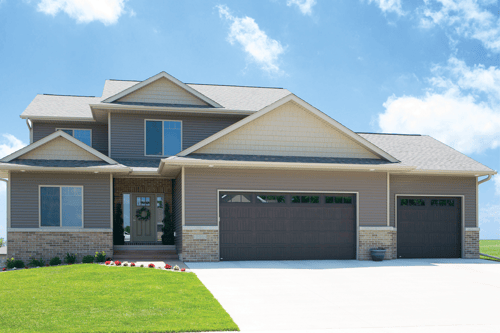 Thermacore® Doors: Insulated Steel Garage Doors
Thermacore® insulated steel garage doors feature a steel sandwich with a middle layer of polyurethane for R-values up to 17.50.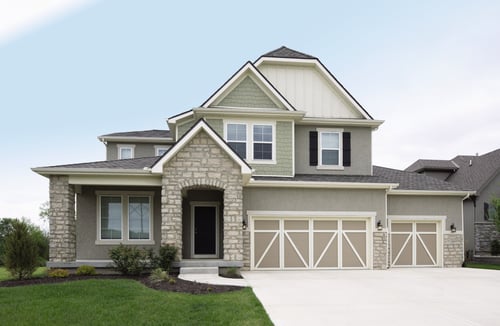 Carriage House Collection®: Steel Garage Doors
The Carriage House Collection® and the Courtyard Collection® of steel doors mimic wood-grain texture, can receive painted or stained finishes and provide R-values up to 12.76.

3. Modern Aluminum Glass Garage Doors
Aluminum is lighter than steel and can also be made into doors that mimic painted wood. Aluminum resists dents and rust, and good-quality aluminum doors tend to cost more than steel doors.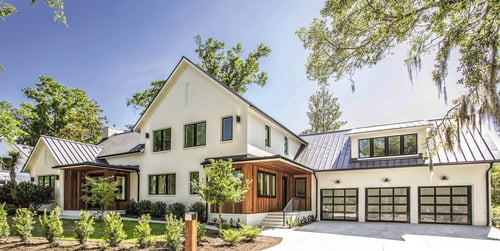 Aluminum Glass Garage Doors
The modern aluminum glass garage doors offered by Overhead Door are sleek and are available in a variety of rail and stile widths. Glass panels render aluminum garage doors of great architectural beauty.
4. Fiberglass Garage Doors
Fiberglass garage doors are perfect for those who want the look of wood in a more durable and less costly material. Fiberglass resists insects and moisture and is less prone to warping than wood.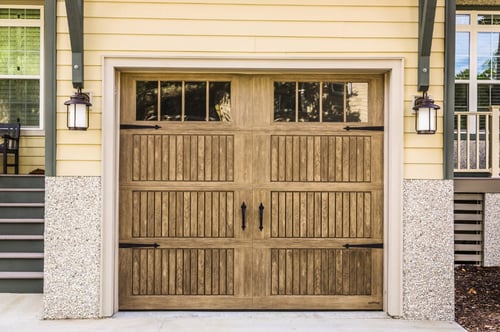 Fiberglass Garage Doors
The Overhead Door Impression Collection® consists of steel doors clad in fiberglass and molded to mimic painted or stained wood. Through the use of Therma-True AccuGrain technology, these doors display the beauty of wood without maintenance. Polyurethane insulation provides an R-value of 7.6.


5. Vinyl Garage Doors
Vinyl is an excellent choice for those who prefer a lightweight garage door that will provide durable performance year after year.

Vinyl Garage Doors: Durafirm Collection®
The Durafirm Collection® of vinyl doors requires little maintenance, as they resist dents and can't rust. The color goes all the way through the vinyl to minimize the appearance of scratches, and the vinyl is treated with a UV-resistant resin that employs special polymers to keep the door looking new.



6. Glazing Garage Doors
Overhead Door glazing is available in a number of styles and materials, including glass, Lexan and acrylic, among others. Shoppers can select from among a huge variety of designs to create the perfect complement to any door style.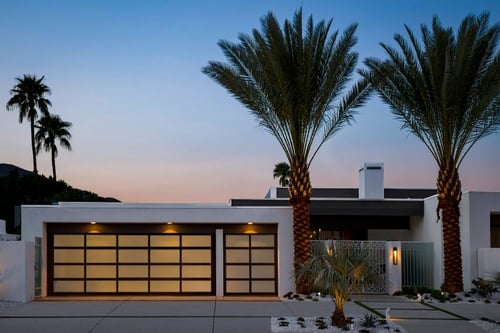 If you're still hesitant of the type of garage door that you want to install in your home, call today or visit our showroom. Our experts will be more than happy to assist you.
Overhead Door Company of Central Jersey has been selling, installing, repairing, and maintaining garage doors for over 50+ years.