During wintertime, as temperatures go down, you or your family could be stuck in your garage, or get stuck outside if your maintenance garage door is overlooked. Not doing the proper annual garage door maintenance to your home could have inconvenient, or even more, dangerous results.

In wintertime or cold weather, there are some common issues garage door homeowners encounter. Here you have some measures to safely resolve the issue and at the same time, protect your garage door.
1. Check Your Garage Door Opener
If you have an automatic garage door opener and your garage door is not working properly, you can do the following:

- Check the batteries for your opener's remote
- Reconnect the opener and try it again
- Try to open the door manually
If the door finally opens, the issue could be associated with your opener. Remember that the opener should be disconnected when the garage door is in the closed position.

If the door still doesn't work call your local garage door dealer. A technician will be able to diagnose issues related to your opener and power supply. Some of these problems need a professional for safety purposes or in order to maintain the warranties that your opener may still have.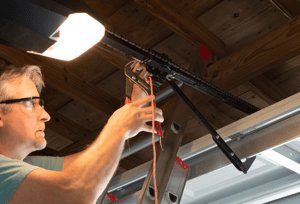 Garage Door Opener Repair/Replacement
Is it time to replace your garage door opener? Learn About Our Openers Best Sellers


2. My Garage Door Won't Open | My Garage Door is Too Heavy When Trying to Lift
In wintertime or in colder months, spring wire weakens in these temperatures as it becomes more brittle, so if your garage door won't open manually or if it feels like it weighs a ton, it is very possible that you have a broken spring.

You will be able to recognize if your garage door spring is broken as you will see the long coil above your garage door split into two pieces or if you've opened or closed your door recently and heard a burst noise.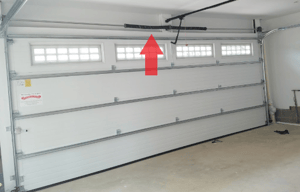 Garage Door Torsion Spring
If you have lived in your home more than 7 years and use your garage door daily and you have never changed your springs, it is time for you to replace them in order to avoid being unable to open your door, or even worse, being stuck outside or inside your garage. Garage door springs are rated for 10,000 cycles usually, meaning by one cycle, open and close of the door.
In case you have a broken spring, you better contact us, or your closest garage door dealer. Trying to repair it on your own could end in serious injury. It should be handled by a professional.
Suggested Article: 5 Reasons Why My Garage Door Springs Broke



3. My Garage Door is Frozen Shut
In colder temperatures, your garage door could be frozen to the concrete and get stuck. Look to the bottom of the door to see if you find ice or snow around it. This could happen when a weather seal sits in water or wet snow and when the temperature gets colder.

Some steps to follow with a frozen garage door in order not to damage it:

→ Do not try to break the ice and force your garage door to open as you may have simply changed one garage door problem for another bigger or permanent one by ripping your weather seal then allowing snow, water, and cold air to enter your garage.

→ If your door is a metal one, do not use ice melt on your door if you don't want to get it damaged. One easy way to prevent ice melt from sticking to your door is by waxing it. Many homeowners use ice melt during wintertime, so be sure to clean the door as soon as possible as it may be on your own door.

As we've heard so many stories, some very strange and others very clever from our clients given by neighbors and/or friends on how to fix their problem, we do not recommend using those folk remedies. You better call your local garage door dealer as it may not be the right decision given and you may cause damage to your garage door as environmental and different materials are involved. Your expert dealer can help your door run without any difficulty.
Suggested Article: How to Open a Garage Door That's Frozen Closed



4. My Garage Door Opens Partially or Doesn't Roll Smoothly
If your garage door opens partially or doesn't roll smoothly when opening one of the reasons could be a lubricant issue on the roller or in the track as in colder weather it can freeze making opening or closing very difficult.
Do not use WD-40 on your garage door as using it can cause problems for your door in the cold season, nor lubricate your nylon garage door rollers, normally black or white. Use a grease solvent in the moving parts of your door so it removes a frozen lubricant. Once done, you can clean and apply to the metal parts of your door a silicone-based lubricant.
Suggested Article: My Garage Door Rollers Are Problematic. What Happened?


Our expert technicians are waiting for your call to help you fix any issues you may have regarding problems with cold weather or planning scheduled maintenance to your garage doors.

We have experts to help you find the best option for fixing garage door problems from cold weather. Help is just a phone call away. Call 908-722-5785 or email us at resi@overheaddoorco.com
We have been serving the Central Jersey area (NJ) for 50+ years!