The cold weather season can be the worst time of year for garage door failure. Low temperatures, along with moisture can cause a door lock to freeze solid and prevent your door from opening or closing. So if your garage door won't open or close during the cold season, do not be surprised. Let's analyze some of the reasons why these may not work well during winter and even better, we'll provide you with some solutions to fix them.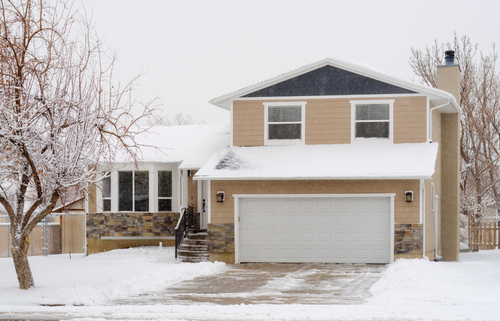 Traditional Garage Door
Why Does My Garage Door Stop Working During Cold Weather?
Cold weather can indeed be an enemy for your garage door because various components can become affected by the extreme cold weather:
- The ice may interfere with signals from the sensors
- Springs, cables, and lubricant may freeze
- The keypad may start malfunctioning



Most Common Garage Door Problems During the Cold Season
There are some very common issues homeowners face during the winter season regarding their garage doors. It is our goal to provide you with a series of simple measures in order to solve these problems.
1. Common Issue: Garage Door Won't Open or It's Very Heavy and Difficult to Lift
During wintertime, it is very common to find spring wires weakened by the weather as they become more fragile. So, if you feel that your garage door just will not open manually or it feels unusually heavy, the cause will most likely be a broken spring.

You can easily recognize a broken spring by looking up and seeing the long coil above your garage door split into two pieces. Another very clear sign is if you hear a burst noise when opening or closing your garage door.

Garage door springs are usually rated for 10,000 cycles (one cycle is when you open and close the door), so if you have lived in your home for more than 7 years, and you have never changed your springs, it is definitely time for you to replace them to prevent any of these problems.
In this case, you should call an expert to help you change the springs because if you try to do it yourself, you can get seriously injured. Let the professionals handle it!


2. Common Issue: Garage Door is Frozen Closed
During colder temperatures, it is very usual to find garage doors frozen to the concrete and getting stuck. You can easily verify this by examining the bottom of the door. Look for ice or snow around it. This happens when weatherseals sit in water or wet snow and then when the temperature goes down, they freeze. Here is our recommendation not to damage your door if you find it frozen:
- Never try to break the ice and force your door open. This could cause a larger or permanent problem if you rip your weatherseal by accident, and then the snow, water and cold air will be entering your garage.
- Gently chip away at the ice or use warm water to melt it. Raise the door, and then just clean and dry the area to prevent it from refreezing.

- If you have a steel garage door, do not use ice melt on your door because this will cause major damage. A simple measure is waxing your garage door. This way you can easily prevent ice melt from sticking to it.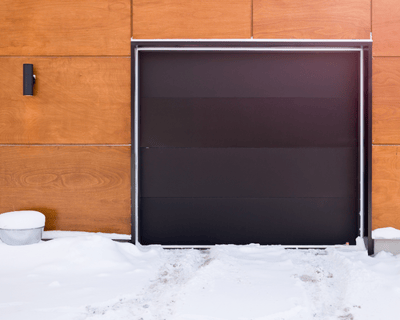 Traditional Garage Doors
We know that there are many recommendations your own friends and neighbors may give you, but it is better to call a garage door expert to help your it run without difficulties. There are a lot of components to take into consideration when fixing these problems, so it is better not to take any risks that can result in larger problems.

3. Common Issue: Garage Door Does Not Roll Smoothly or It Opens Partially
The most common cause for a garage door not to open correctly or for getting stuck at a certain point in the track is a lubricant issue on the rollers or in the track because in cold weather lubricant can harden and get sticky.

In order to avoid this from happening, you should refrain from using WD-40 on your garage door, as it can cause these kinds of problems during the cold season. Also, avoid lubricating your nylon garage door rollers. What you can use is a grease solvent in the moving parts of the door in order to remove any frozen lubricant. After that, just clean and apply a silicone-based lubricant to the metal parts.
4. Common Issue: Garage Door Opener is Not Working Properly
If your garage door opener is automatic, and you realize it is not working properly, here is our recommendation:
- First, disconnect the opener (your garage door must be closed)
- Then try to open the door manually
- Check the batteries of the remote
- Reconnect the opener and try again
→ Suggested Article: How to Manage Your Garage Door without Electricity ←
If after performing these actions, the door finally opens, it most probably means the problem is associated with your garage door opener.

If the door still does not work after following these steps, you should call an expert who will check and give you a diagnosis related to your opener and power supply and will help you fix it. It is important to consult a professional in order to keep the warranty that your opener may still have, as well as for safety purposes.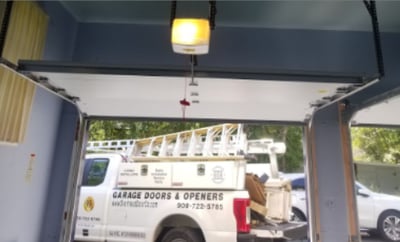 Skipping your annual garage door maintenance can result in inconveniences or even dangerous results. As winter advances and the temperature goes down, things could get rough if you avoid performing preventive maintenance on your garage door. One of the results could be having your car stuck inside or outside your own home, and all because you failed to perform this simple task.
→ Suggested Article: The Importance of Your Annual Preventive Maintenance for Your Garage Door ←
It is our recommendation to contact our experts at Overhead Door Company of Central Jersey! We are just a call away from you to help you fix any issue during this cold weather or even schedule preventive maintenance to your garage doors.

Remember we've been selling, installing, servicing, and maintaining residential garage doors, commercial and industrial garage doors, and loading dock equipment for over 50 years in the Central Jersey area.

We have hundreds of positive online reviews left by our amazing customers to back us up.
✓ Call Us: (908) 722-5785

✓ Email Us:
- For a New Garage Door Consultation: sales@overheaddoorco.com
- For a Repair or Service: resi@overheaddoorco.com

✓ Visit our Showroom & Parts Counter At:
952 Route 202 South
Branchburg, NJ 08876
* GPS instructions