Your choice of a garage door must account for functional and aesthetic concerns. You need a well-made door and opener that delivers durable service year after year. You also want a door with the color and style to increase your home's curb appeal. Here are some buying tips from Overhead Door Co. of Central Jersey, the best source to learn what needs to be considered before purchasing a garage door.

Traditional Garage Doors with Windows
Functionality
You may also need protection from storms and high wind loads, another reason to choose a Thermacore door, which features in-between section seals and a bulb-type bottom weather seal.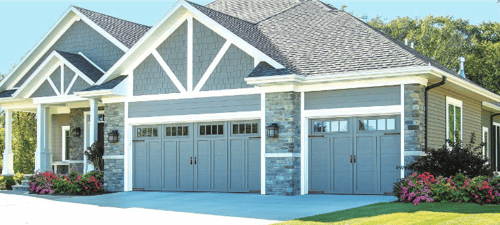 Carriage House Garage Door - Courtyard Collection
Size and Style
Construction
You should never settle for less than excellent quality construction, no matter what surface material you specify. Whether it's steel, aluminum, wood, fiberglass or vinyl, pick a door from a manufacturer with an unrivaled reputation for quality and value, such as Overhead Door.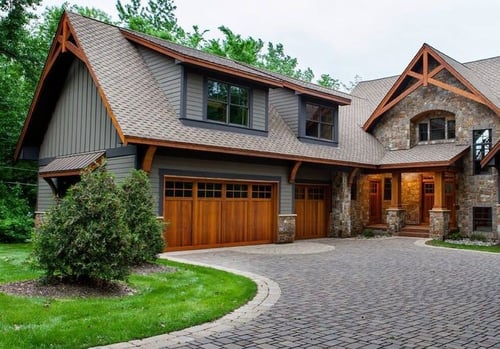 Custom-Made Wood Garage Doors with Windows
Wood doors offer beauty and charm, and they can be purchased with or without insulation. If your need for sturdiness and protection is paramount, you might like a steel door.
Overhead Door offers both traditional steel doors as well as carriage house style (the Courtyard Collection) that mimics the look of painted wood. If you are looking to make an architectural statement, consider our aluminum/glass doors.

Steel Carriage House Garage Doors - Courtyard Collection
If your top concern is a door that is durable and maintenance-free, check out the Impression Collection of fiberglass garage doors and the Durafirm Collection of doors with vinyl skins.
Accessories
Don't forget the important accessories that extend the design and functionality of your garage door. Overhead Door offers a selection of hinges, latches, and knockers to customize the door's look.

We also have a variety of electric door openers, wireless keypads, wall consoles and remotes to provide you with effortless convenience and unrivaled security. Our garage door openers feature the CodeDodger Rolling Code Access Security System that prevents would-be thieves from stealing your remote access code. We offer openers with screw-, chain- or belt-drive construction so that you can select the one with the features you desire.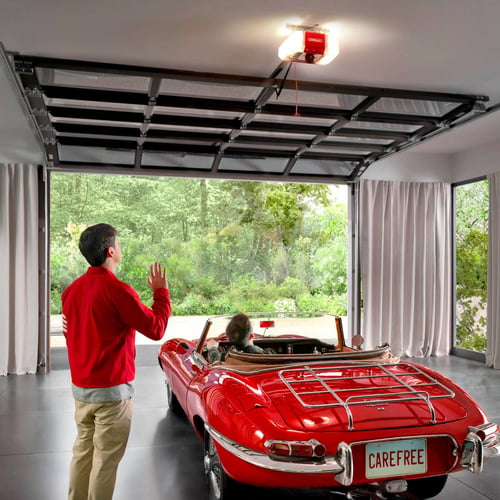 Garage Door Opener with Camera and Wifi
→ Suggested Read: Control Your Garage Door With Your Cell Phone and/or Tablet ←
Whatever your garage door needs, contact us or visit our showroom.