Overview - Commercial Doors
Whether you're looking for commercial sectional doors, coiling doors, fire doors or high performance doors, Overhead Door Company of Central Jersey has been installing and servicing commercial garage doors since 1972. We offer all types of commercial and industrial garage doors and garage door products, insulated doors, high-speed fabric doors, high-speed service doors and grilles, fire doors and security grilles as well as components, openers and control systems.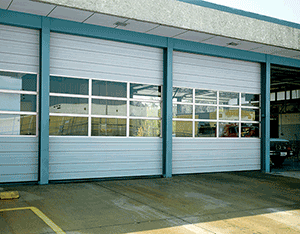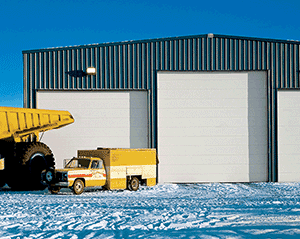 Overhead Door Company of Central Jersey also features a full line of dock equipment including: dock levelers, seals, shelters, bumpers and safety equipment for your commercial or industrial loading dock.
We are proud to offer and install products and materials from the following fine commercial garage door manufacturers.
Overhead Door Corporation
Overhead Door Corporation has been providing a complete selection of high performance, durable and safety-tested commercial and industrial overhead and rolling-steel garage doors for over 90 years. Regardless of your business needs, Overhead Door Corporation is ready to help you succeed. From insulated and non-insulated doors for internal and external applications to high-performance, sectional-steel and fire-rated doors engineered for excellence, Overhead Door Corporation's commercial and industrial doors are the ultimate choice for durability, serviceability and hassle-free performance for all of your commercial or industrial operations.
Backed by a dedicated nationwide network of Red Ribbon Distributors such as Overhead Door Company of Central Jersey, Overhead Door Corporation has the garage door products your business needs for a safe, economical and successful operation. Visit Overhead Door Corporation and see for yourself why they are one of the best commercial and industrial garage door suppliers in the nation.
Amarr Door
Durability, security, maximum energy efficiency and even beauty are all hallmarks of the Amarr Door brand. Amarr's top-of-the-line commercial and industrial doors are designed to be functional, high performance doors that are low maintenance and exceptional value. When you're looking for an economical commercial or industrial garage door opening, without sacrificing on performance, craftsmanship or style, look no further than a garage door from Amarr.
Offering a comprehensive line of sectional overhead, rolling steel, and rolling sheet doors, Amarr has everything you need including storage doors, service doors, service fire doors, rolling grilles, light-duty/heavy-duty sheet doors, certified wind load sheet doors, and a variety of insulated and non-insulated sectional doors for your growing business. With over 70 door centers that service over 3,000 dealers around the world, Amarr garage door suppliers offers a complete line of commercial doors and hardware to meet the demanding requirements of your industrial or commercial facility. Visit Amarr Door and find the perfect garage door for your business today.
Dynaco Door
Dynaco Door is one of the safest, fastest and lowest maintenance high speed roll up doors. Whether you're in the market for a high performance industrial or commercial garage door for food, pharmaceutical, freezers or other specialized applications, you can depend on a Dynaco Door to get the job done masterfully. With over 25 years of experience and nearly 13,000 high performance doors installed every year, it's easy to see why Dynaco is one of the fastest growing industrial roll up garage door manufacturers on the planet.
With features like self-repairing doors, exceptional seals and energy saving insulations, Dynaco Door has quickly become one of the largest industrial door manufacturers on the globe. Developments for specific environments such as cleanrooms, machine protection, emergency exits and logistics ensure that whatever your business, Dynaco has the perfect industrial or commercial roll up door. Impact resistant doors also ensure damages are nearly non-existent and employee safety is guaranteed because there are no rigid elements that can cause dangerous impacts. Take a look at the many Dynaco Door patented concepts and technologies and find the ultimate door for your industrial or commercial business.
Hormann-Flexon
Hormann-Flexon offers a full line of high-speed doors in both fabric and aluminum. Hormann-Flexon is an excellent choice for doors that need high-speed and full visibility while also maintaining security and the building environment.