One thing all businesses have in common: they need to get maximum durability, reliability and value from their equipment, despite years of hard use. Overhead Door offers a variety of commercial and industrial overhead doors that meet the safety and performance requirements of the most demanding businesses. Whether the doors are steel, aluminum/glass, rolling or sectional, insulated or not, Overhead Door Company of Central Jersey has the industry-leading solutions at the most competitive prices.
Overhead Door Company manufactures with the highest industry standards, providing long life with a minimum of maintenance.
Table of Content:
1. Sectional Overhead Doors (Insulated & Non-Insulated)
2. Aluminum Glass Overhead Doors
3. Rolling Steel Doors
4. High-Performance, High-Speed Metal Roll-Up Doors
5. High-Performance, High-Speed Fabric Rolling Doors
6. Fire-Rated Doors
7. Rolling Counter Shutters/Doors
8. Security Grilles
9. Commercial Wind Load Doors

---
Commercial & Industrial Overhead Doors:
Each type of commercial and industrial overhead door represents great value and an excellent solution to particular commercial and industrial requirements.

1. Sectional Overhead Doors:
We offer insulated and non-insulated sectional overhead doors. No two businesses are identical, which is why Overhead Door offers a large variety of gauges, hardware, track styles and panel profiles in their sectional steel doors. You can choose from heavy-duty, medium duty and light duty sectional doors, depending on your business needs.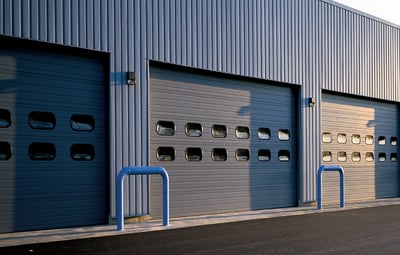 Sectional Thermacore® Overhead Door Model 598
Light Duty, Superior Thermal Protection
1.1 Insulated Sectional Overhead Doors - Thermacore®
For those who need the most innovative performance in insulated sectional doors, Overhead Door offers Thermacore® advanced technology in several commercial models. All feature high R-values (up to R-26), minimal air and temperature infiltration, section seals and thermal breaks, polyurethane-steel sandwich panel construction and superior weather seal with retainer. Commercial Thermacore® doors are available up to 40'2" wide by 32'1" high, and in duty levels from extra-heavy to light in order to efficiently satisfy a wide range of requirements.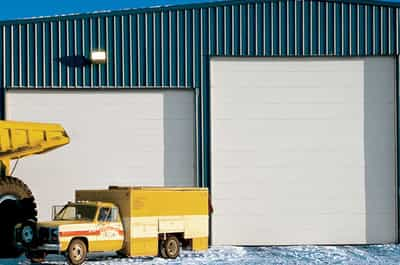 Thermacore® Sectional Door Model 599
The Thermacore® model lineup includes:
- Advanced Performance Doors: Model 850 offers the ultimate protection for industrial and commercial applications that require superior climate control, such as facilities for food/beverage storage, pharmaceuticals, manufacturing and agriculture.
- Thermacore® Wind Load Doors: Model 515 has an R-value of 12.2, and Model 525 is R16.2. Both are designed to withstand high wind pressures and satisfy local building codes.
- Extra Heavy Duty: The Model 596 Series has an unbeatable air infiltration rating and a Class 26 sound transmission rating. The door feature environmentally friendly polyurethane insulation.
- Heavy Duty: Models 591, 592 and 599 all provide superior protection against air infiltration and are available in a wide range of door openings.
- Medium Duty: For strict adherence to quality standards, the Model 593 ribbed-panel door and the Model 594 raised panel door meet the tightest product tolerances. These doors are energy efficient and handsome.
- Light Duty: For light duty use, Model 598 is economical yet delivers superior thermal protection.
---

2. Aluminum/Glass Doors
There are many applications requiring attractive doors that allow excellent light infiltration. The highly aesthetic our commercial aluminum glass doors models 511 and 521 are offered with a variety of tracks styles, glazing materials, stile widths and different finishes. Model 511 is a narrow-width, standard-frame door in sizes up to 16' wide. Heavy-duty aluminum glass doors are available.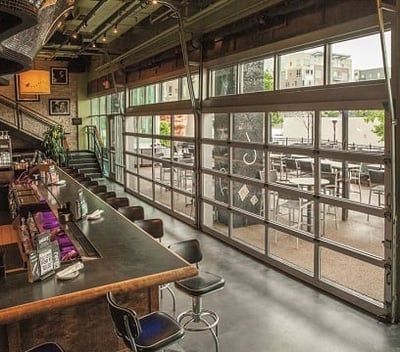 Aluminum Glass Door in Restaurant
---
Business owners looking for rolling doors that provide durable long life, high security and/or outstanding thermal performance can choose from over a dozen rolling steel doors offered by Overhead Door. Our Overhead Door™ rolling service door product line ensures that your project specifications will be met with ease and style. Ideal for situations where sideroom and headroom are at a premium, our upward-coiling service doors fit openings up to 1500 sq. ft. (139,355 sq.mm) and are available with the industry's widest array of slat profiles, curtain materials and colors, offering a virtually endless array of options to satisfy both aesthetic considerations and working requirements.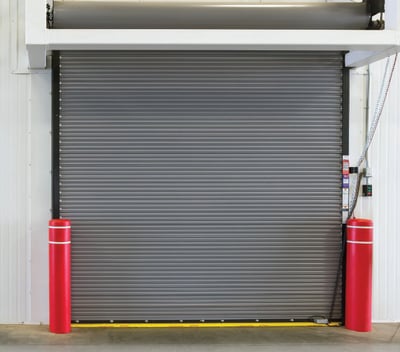 Rolling Steel Door
---
4. High-Performance, High-Speed Metal Roll-Up Doors
Our Overhead Door™ high speed metal doors/high-performance doors offer opening speeds up to 80" per second. Engineered for high cycles the RapidShield® and RapidView® doors have a springless design requiring minimal interruption for maintenance. Exterior high speed full-view metal door with polycarbonate panels is available.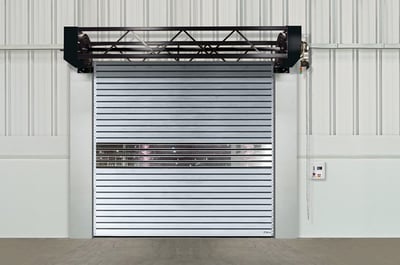 Exterior High-Speed Metal Door Model 998
---



5. High-Performance, High-Speed Fabric Rolling Doors
At Overhead Door Co. of Central Jersey, we offer insulated and non-insulated high-speed, high-performance fabric and rubber roll-up doors for both, interior and exterior applications.
- RapidFreeze™ is an interior insulated fabric door for cooler and freezer applications.
- Our RapidFlex​® series of fabric high speed fabric doors offer solutions for both interior and exterior applications.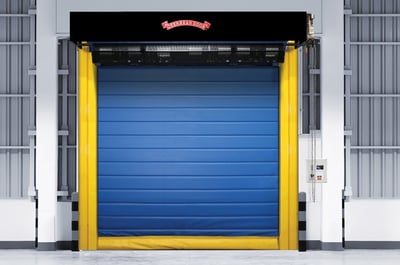 RapidFreeze™ | Insulated High-Speed Fabric Door
---



6. Fire-Rated Doors
We provide a wide array of Overhead Door™ rolling steel doors that meet the fire safety standards, unusual opening sizes, and discerning aesthetic requirements. The fire-rated roll-up doors and the fire-rated counter doors are designed to close automatically in the event of a fire or alarmed event, our fire-rated doors are available for service door and counter applications in commercial, industrial, institutional and retail projects. We provide fire doors with UL or FM labels and are listed for both masonry and non-masonry applications.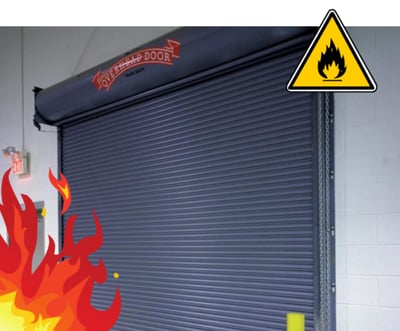 FireKing® Rolling Fire Door
---



7. Rolling Counter Shutters | Rolling Counter Doors
Overhead Door™ rolling counter doors provide a multitude of attractive solutions for smaller openings to 20' wide and 9' high. Ideal for commercial, retail, corporate and professional environments. Our counter doors can be made of metal curtain, wood curtain,or integral frame and sill.​​ Counter door security grilles are also available.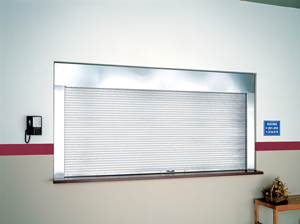 Rolling Counter Shutter | Rolling Counter Door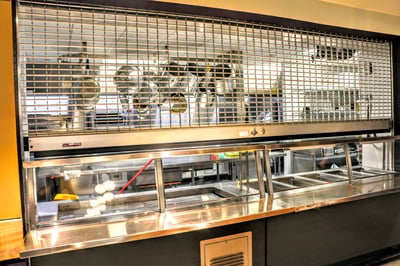 Counter Door Security Grille
---



8. Security Grilles
​​​​​Overhead Door™ security grilles provide an array of attractive solutions for a spectrum of retail, commercial and industrial applications.​
- Our side-folding grilles boast the shortest stacking dimension of any grille available today, and feature a handsome clear anodized finish (standard) in a variety of patterns and optional colors.
- Our line of upward-coiling security grilles are constructed of aluminum, stainless or galvanized steel -- with optional electric motor -- these grilles are designed for durability and easy operation.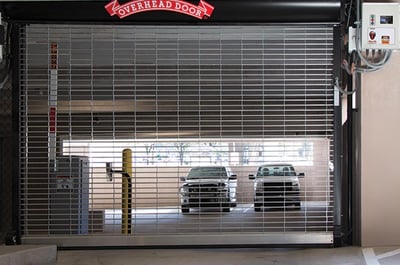 High-Performance Security Grille for Parking Garages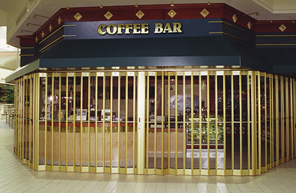 Side-Folding Security Grille for Coffee Bar
---



9. Commercial Wind Load Doors
We offer commercial and industrial overhead doors with wind load options for sectional steel overhead doors, rolling service doors, and roll-up fire door systems.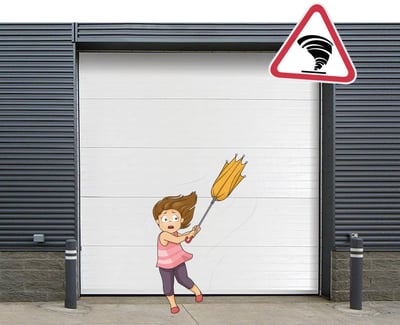 Sectional Door with Wind Load Option
---
As you can see, there is an overhead door available for just about every commercial and industrial situation.
Contact our team to get additional information about our overhead doors. We look forward to assisting you. We've been serving the Central Jersey area for almost 50 years.
Visit our commercial and industrial overhead doors catalog and/or our loading dock equipment catalog.