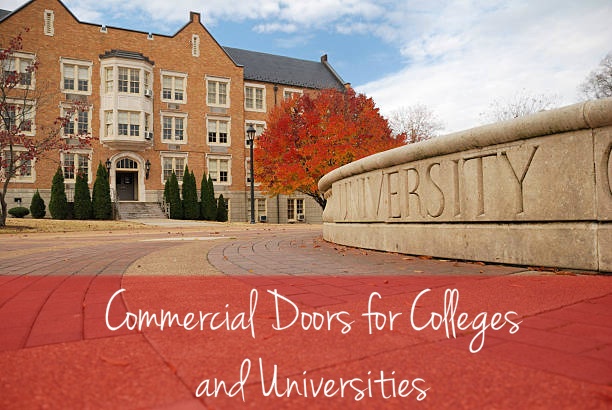 When you think of doors for a college or university the first thing that might come to mind could be a front entrance door or a dormitory entrance door. There are many other closures and access systems you might walk right by and not even notice. These access systems often include rolling fire doors, coiling or side sliding grills, counter shutters, overhead garage doors and loading dock equipment. These systems can be for either interior or exterior applications. For over 45 years, Overhead Door Company of Central Jersey has specialized in these products.
Starting with exterior applications, there may be a need for doors on a loading dock or receiving area. Doors for this purpose may be coiling steel or sectional type doors dependent upon the specific requirements for that area. These products offer a wide variety of features including high insulation values, an array of colors to choose from and many window options. These doors may be manually operated or upgraded to be top of the line automated access systems. To see appropriate choices for this application be sure to look at Overhead Door Corporation Thermacore series and Stormtite series doors. At the receiving area there may also be a need for loading dock levelers, loading dock seals or truck shelters, loading dock bumpers and perhaps vehicle restraints and traffic control systems. Overhead Door Co. of Central Jersey offers a full line of these products – and we are here to assist with selecting exactly the right equipment for your needs. We recommend products from W. B. McGuire and Fairborn for these applications. As with door systems, loading dock levelers and vehicle restraints range from simple manually operated devices to fully automated systems for superior traffic control and safety.
Commercial Doors for Colleges and Universities
Moving to interior applications, there are many requirements for coiling and specialty doors in most institutions. These requirements include automatically closing fire doors to separate building areas in the event of a fire event. Select products from Overhead Door Corporation FireKing® 630/631/634/635 rolling fire door collection to find the perfect solution for the stringent requirements associated with these specialty products. Overhead Door has kept innovation and appearance in mind while never losing full focus on the fire safety these doors are designed to provide.
Additional interior applications could include rolling grilles or counter doors. Once again, you can look to Overhead Door Corporation as a premier supplier for these products. Select from aluminum, stainless steel or even beautiful custom wood counter shutters. These products are available in an array of finishes to compliment any architecture. Grilles are also available in aluminum and stainless steel and in a variety of patterns and finishes. These products are most often used to close off a lunch counter, a ticket counter or to separate areas of a building on an as needed basis.