When thinking of doors for use in hospital or medical facilities the first items that may come to mind are automated doors for operating suites or separating care areas from hallways, the front entrance area or maybe the trauma center or emergency room entrance. There is a wide variety of additional access systems that might often be required at hospitals and medical facilities. These may include overhead and coiling doors for different purposes in different areas. For example, there may be a need for counter shutters, rolling (coiling) doors, side sliding security grilles and fire rated doors. There may be a material receiving area with a need for either sectional or rolling (coiling) security doors, high speed doors, and perhaps loading dock equipment.
Commercial Doors for Hospitals and Medical Facilities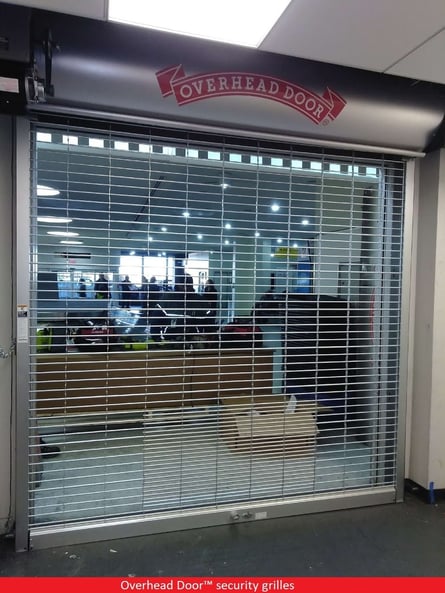 Overhead Door™ security grilles provide an array of attractive solutions for a spectrum of commercial and industrial applications. Our side-folding grilles boast the shortest stacking dimension of any grille available today, and feature a handsome clear anodized finish (standard) in a variety of patterns and optional colors. We also offer a line of upward-coiling grilles. Constructed of aluminum, stainless or galvanized steel -- with optional electric motor -- these grilles are designed for durability and easy operation. Our comprehensive line of security grilles affords both reliability and peace of mind. With all these choices there is certain to be a product that is perfect for your project.
For the areas that may require specialty items such as fire rated doors or high speed/high cycle/high performance doors, there are more choices than ever specially designed for these applications. A wide array of Overhead Door™ rolling steel doors are available to meet the most demanding fire safety standards, unusual opening sizes and discerning aesthetic requirements. Designed to close automatically in the event of a fire or alarmed event, our fire-rated doors are available for service door and counter applications in commercial and industrial projects. We provide fire doors with UL or FM labels, and are listed for both masonry and non-masonry applications. Our FireKing® fire door collection offers fire protection, innovative design, and optimized performance for the end user. The Fire Sentinel® time-delay release device provides an added measure of safety to control the doors' closure.
For high cycle/high usage doors that do not need to be high speed fabric or may be exterior consider the EverServe springless high cycle series of rolling service doors from Overhead Door Corporation. These doors come complete as an automated door system with electronic controller with microprocessor self-diagnostics. Digital readout indicates door action, alarm conditions, and fault conditions. Time delay self-close timer and non-resettable cycle counter are also standard features.
Counter doors and counter shutters are also available in standard, fire, and integral frame configurations. Like other rolling doors these are available in a variety of materials and finishes including galvanized steel, aluminum, stainless steel and even exotic wood slats.
For high speed applications, The RapidFlex® series of fabric high speed doors offer solutions for both interior and exterior applications.
Interior Fabric High Speed Doors for Hospitals and Medical Facilities
The Model 990 is a flexible bottom interior high speed door built for safety. The Model 991 is an interior door that features a strutless design to reduce operational noise as well as a patent-pending curtain lock which allows the door to withstand pressure and enables it to be repaired quickly in the field. The Model 992 is made of the same curtain material as the 991, but features struts to allow for larger door sizes and makes it easy to replace sections in the field.

Exterior Fabric High Speed Doors for Hospitals and Medical Facilities
The Model 993 and 994 are both strutted high speed fabric doors; however they feature a heavier curtain material for exterior applications. Both models have been independently tested for pressure resistance and the 993 features a pressure resistance of up to 4.0 psf or 76 mph while the Model 994 features a pressure resistance of up to 22psf or 158 mph. The Model 994 also features a patent-pending bottom wind lock and articulating roller wind struts which reduces operational noise while allowing the door to withstand pressure.
RapidFlex® high speed rubber rolling doors are designed for extreme, heavy-duty applications. The rugged petrochemical resistant NBR rubber curtain is reinforced with polyester weave for added strength without the weight. This door features a patent-pending curtain lock design and was independently tested for pressure resistance and can withstand up to 180 mph and is operable up to 75 mph. The heavy-duty guide construction for this door is designed for harsh conditions. The RapidFlex® High Speed rubber door features breakaway and self-reset, infrared obstruction detection, wireless reversing safety edges, and an industry-leading five year door system warranty.
If sectional overhead doors are appropriate for your project there is a vast product selection. The most popular choices include our aluminum and glass 521 series and our polyurethane insulated steel-foam-steel laminated sectional doors. The aluminum series is available with various window options and can be mill finish, painted, anodized or powder coated in a color perfect for your project. The ThermacoreTM series by Overhead Door Corporation offers R-values up to 26 and U-values as impressive as 0.038 for the most demanding environments. These products are available with multiple tracking configurations to fit your specific needs. Generally sectional door products will provide more thermal efficiency than rolling or coiling products.
We can also assist with your loading dock equipment requirements. Whether your plan calls for mechanical, air powered, hydraulic or vertical storing or edge of dock loading dock levelers W. B. McGuire Co. has the right product. Another important consideration for the loading dock area might be the use of a vehicle restraint system. The vehicle restraint system prevents a truck from pulling away from a loading dock while loading or unloading is in progress. These products can be automated and integrated with traffic control light systems to increase safety. A full line of dock seals with both fixed, curtain and adjustable headers and a full line of dock shelters are also offered. These products can be specified for a variety of site conditions such as steel or masonry wall structure, sloped or level approach, above and below dock level operation and many other site specific conditions.
Contact a commercial/industrial sales specialist at Overhead Door Co. of Central Jersey today! We can be reached at 908-722-5785 or on the web at www.OverheadDoorCo.com.
At Overhead Door Co. of Central Jersey we have been providing quality service and installations since 1972. We look forward to assisting with your project.