Garage doors are the most common oversight features of homes when in truth, replacing or installing a new garage door can increase its curb appeal and highlight your property's facade.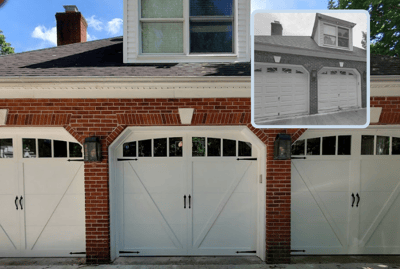 Garage Door Replacement in New Jersey: Before and After Photo
When you purchase a high-quality garage door, it most surely will last decades, if not a lifetime.
In this article, we will help you ensure you are choosing the best garage door for your home and the correct material, as well as some other useful tips.
The key is to select a garage door style that complements your property. You can choose your garage's door material based on a fusion of style preferences, durability, and of course, maintenance.
---
Key Aspects to Consider When Purchasing a New Garage Door
How do you choose the best garage door to add the final touch to your home? Here are some of the most important aspects to consider when choosing a new garage door:
1. Garage Door Safety
Safety is always the number one concern when occupying a house. It is incredible how technology has advanced and helped us create these amazing designs to make our homes feel like fortresses but still look amazing.
2. Garage Door Sizes: Single vs Double-Car-Size
Are you installing a single, or double-car-size garage door?
Not all garage door openings are built the same, however, there are some basic standards when it comes to regular doors that most garage doors fall into. The standard size means that an average car, truck, or SUV will fit within the garage entrance, while a big truck most definitely won't.
3. Garage Door Material
Every garage door is constructed differently. The main difference is basically the material it is made of. The same principle applies to a traditional front door: there is a wide variety of options for your garage door, although, we should mention that nowadays, things are not always what they seem.
One of the hottest trends in recent times is deception: not-so-overpriced lookalikes, made out of lower-maintenance materials. Garage doors offer numerous looks in almost every material you can think of.

So, here comes the big question: What should you be looking for in a garage door? Well, the answer is pretty simple: of course, you want a garage door that is hard-wearing, dent and fade-resistant, silent, and of course, astonishingly beautiful. So here are the options:
✔ Steel Garage Doors
Steel doors nowadays are not only strong and durable but also light and quiet, which makes a winning combo. Not all steel garage doors have insulation properties, however, many of them can be insulated with foam when extreme temperatures are needed to stay outside. The only disadvantage is that steel can rust pretty easily, especially in wetter weather.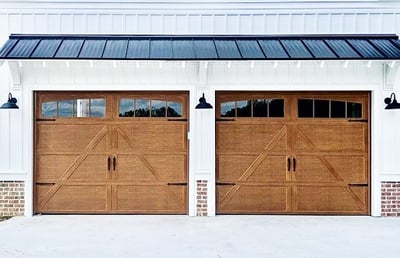 Steel Garage Doors: Carriage House Style
✔ Aluminum Garage Doors
As incredible as it may sound, aluminum is usually more expensive than steel when talking about garage doors. It means that a high-quality aluminum garage door is top-of-the-line. Aluminum doors can also be insulated and it offers the same resistant properties as steel. The advantage is that aluminum works better in wet environments because it is less likely to rust.
✔ Wood / Wood Composite Garage Doors
These doors are the real deal. While steel and aluminum can be a good imitation of wood, there is nothing like the look and feel of solid wood. However, you must consider that the best look does not always offer the best features, because wood garage doors are heavy and require much more work and maintenance more often than not.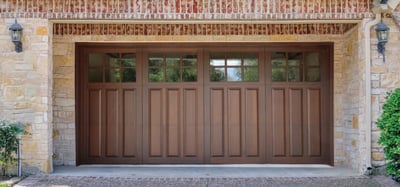 Double-Size-Car Wood Garage Door: Signature Collection
✔ Vinyl Garage Doors
These are the lowest maintenance garage door option because these doors are built to stand up for basically everything! Vinyl garage doors seem to be basically indestructible and everlasting! The only disadvantage we find here is that you can't always get the exact desired look.

Vinyl Garage Door: Traditional Style

✔ Fiberglass Garage Doors
Fiberglass garage doors are very similar to the composite realistic wood look, also without the heavy weight and demanding maintenance plans required in a solid wood garage door.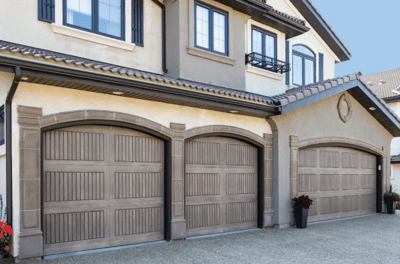 Fiberglass Garage Doors: Traditional Style

4. Insulation
The first question is, do you really need an insulated garage door? Well, if you live in a very strident climate and you need to spend a lot of time in your garage, the insulation is worth it, but if you are only using your garage as a parking space, an insulated door can keep fumes and chemicals inside, and you definitely don't want that.

5. Garage Door Features
We are living in a privileged era where looks and safety don't have to be excluded one from another. These days, the rule seems to be: "the more, the better". So, you have these options to choose from:
- Automation
There are tons of automation features compatible with garage doors, and the best part is that most devices can do all of them. Everything from opening, closing, deliveries, and lights can be automated with a garage door opener and most can connect with apps on your phone, google home, or even with Alexa.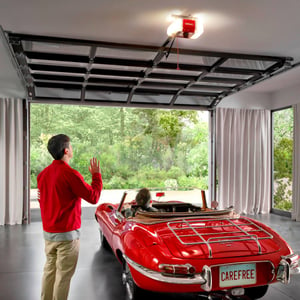 Smart Garage Door Opener with Camera
- Safety Features
There are three primary safety features to consider when choosing the best garage door for your home:
- Manual Controls: In an emergency situation or loss of electricity, you would need to know how to manually open and close your garage door, so this is a must.

- Motion detection: This is very important because it is how the garage door senses an object or a human in its path.
- Auto-reverse: This means that the garage door will automatically reverse its path when objects are detected so it keeps from crushing them.
Note: you must constantly test your garage door to make sure all these features are working properly.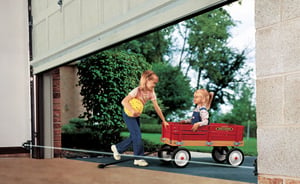 Garage Door Photo Eyes
6. Garage Door Aesthetics
This is the exciting part! Although safety and material are important features to consider, choosing the right look is for sure, the most appealing part. And there are a lot of things to consider:
- Color
The garage door color is important but not permanent. Keep in mind that you can always make changes to update your door in regards to color, so it doesn't have to be perfect right away. The options here are endless. Garage doors should accentuate and complement the rest of the structure, but you can also choose a neutral color if you are a more conservative type.

Colorful Garage Door
- Windows
Garage doors with windows look not only beautiful but also elegant. You can choose no windows, a few top windows, huge sweeping windows, or anything in between. Take your time to look at all the options and choose the one that goes best with your home style.

Traditional Garage Door with Windows
- Decorative Hardware
Picking out hardware for your garage door can be the most tedious task in any project, indeed, because it is very hard to imagine how everything will look in the end. Measuring or grabbing a few samples will be of much help to decide what will work best in terms of space. There is a lot to choose from in colors, finishes, styles, and so on.

Carriage House Garage Doors with Windows and Decorative Hardware
Choosing the Best Garage Door for Your Home
So, we have reached the final part, how can you make the decision? How can you choose the best garage door for your property?

After defining your style, determine the features you consider are the most important to you and then simply look for alternatives. You can take pictures and imagine how they will look in your home and get quotes on different things. But most of all, if you are feeling unsure, you can just contact us. We will happily guide you through the process.


Call us: 908-722-5785
E-mail us: sales@overheaddoorco.com

Whether you're looking for a sleek, sophisticated, or old-fashioned garage door, look no further than Overhead Door Co. of Central Jersey. We have an endless selection of beautiful garage doors for your home.

Overhead Door brand garage doors are among the most reliable, dependable, and durable garage doors. For over 50 years, we have been providing homes and businesses with quality building products and services that can keep up with your busy schedule during the day—as well as keep you and your family safe throughout the night.