Does your commercial or industrial facility has automated garage door systems? Chances are very good the answer is yes. While modern commercial access systems such as overhead and coiling garage doors are highly reliable they deserve some attention to maintain the highest levels of reliability and safety.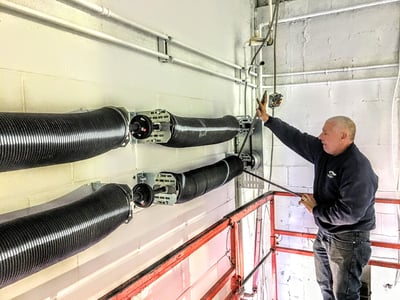 In all cases, the end-user can make some quick inspections to be sure everything is in working order. This can help to both ensure the highest levels of safety as well as prevent downtime or emergency-based service. When called for service we often discover repairs could have been considerably less significant had they been done on a preventative basis. Let's take a look at some of the items that are easily checked – and easily and inexpensively repaired if handled prior to system failure.

1. Commercial Door & Opener System: Visual Inspection
Take a good look at the door system on a regular basis.
- Is all the hardware tight? Is there any significant visible wear?
- Inspect the track assembly to be sure it is in good repair – properly attached to the wall and undamaged.
- Look at the tires on the rollers, see if they appear to be straight and tight on the axle.
- Look at the counterbalance lift cables for any sign of fraying or wear and check any exposed wiring for signs of wear or lose connections.
- Look up at the spring counterbalance assembly. Does it appear to be lubricated and do the springs appear to be unbroken? You can easily tell from the ground if a spring is broken as there is typically a space between the coils. The spring may also be misshapen from the breakage. We often see doors continue to be cycled with a broken spring as the opener system may be powerful enough to lift the door even though it is no longer properly balanced. This is not only dangerous but contributes to excessive wear on the opener system which may result in failure of the opener as well. On coiling steel doors look for damaged or bent slats, listen for grinding/binding noises and watch for inconsistent operating speed.



2. Commercial Door & Opener System: Operational Test
Assuming everything is in order with the visual inspection operate the door to the fully open position and back to the fully closed position.
- Does the door system run smoothly?
- Are there any unusual sounds?
- Does the door open fully and stay there or does it drift back into the opening a bit?
- Does it close firmly on the floor without gaps?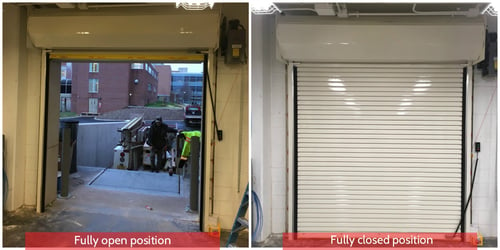 3. Safety Device Test
Your system most probably has either a stopping/reversing bottom edge device or a photo eye safety reverse device. If it does not, it should be wired to require constant pressure on the close button to operate the door in the close cycle.
- If your system has a reversing bottom edge this system can be easily tested. Simply start the close cycle of the door – when it reaches a convenient height 'bump' the bottom edge of the door firmly with your palms up and the door should stop downward travel and reverse to the fully open position.
- If your system uses photo eyes as a safety device you can test by beginning the close cycle then blocking the photo eye light beam with any convenient obstruction such as a box or trash can. Once the light beam is interrupted the door should stop downward travel and reverse to the fully open position.
If either of these simple tests fails you should call for service immediately to prevent damage or injury.

4. Traffic Control Systems
If your system includes traffic control devices such as traffic lights, rotating beacons or audible warnings check to be sure these are functioning as intended.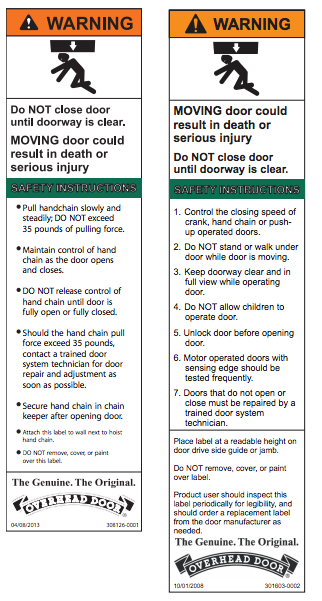 By spending a few moments on the inspections outlined above and addressing any issues prior to system failure your commercial garage door opener systems should continue to work with the safety and reliability they were designed with.
At Overhead Door Co. of Central Jersey, we also like to recommend an annual preventative inspection. This allows us to inspect, test, lubricate and adjust all door systems as required. Upon completion of the preventative service inspection, we provide a list of any suggested or required repairs for the customer's consideration.
Overhead Door Co. of Central Jersey has been providing quality products and services since 1972. Give us a call at 908-722-5785.
We are here to assist with all of your commercial/industrial garage doors, operators, and loading dock equipment.